If you think it's difficult to define your typical customer now, imagine what it will be like 20 years from now.
Understanding the Importance of Language In The Business World
For one thing, by 2030, the concept of one particular racial or ethnic group being in the majority will be fading fast and will be non-existent by 2043, according to U.S. Census data. Your customers may be just as likely to speak Spanish at home as they are to speak English. And although they may be able to speak English, many will feel more comfortable having conversations in another language.
If you want your company to continue providing exceptional customer service and maintaining a competitive advantage, you need to be prepared to welcome anyone who walks in the door.
What will be the most common languages in the United States in the future? While no one knows for sure, we can get some good indicators by looking at a few key trends.
U.S. Population Trends And Projections
Multicultural Americans—a designation that includes Asian Americans and Hispanics—represent 120 million people and make up 92 percent of the total growth in the U.S. population between 2000 and 2014, according to Nielsen research.
That's expected to continue, with minority populations projected to become a majority of by 2043, as this U.S. Census chart shows.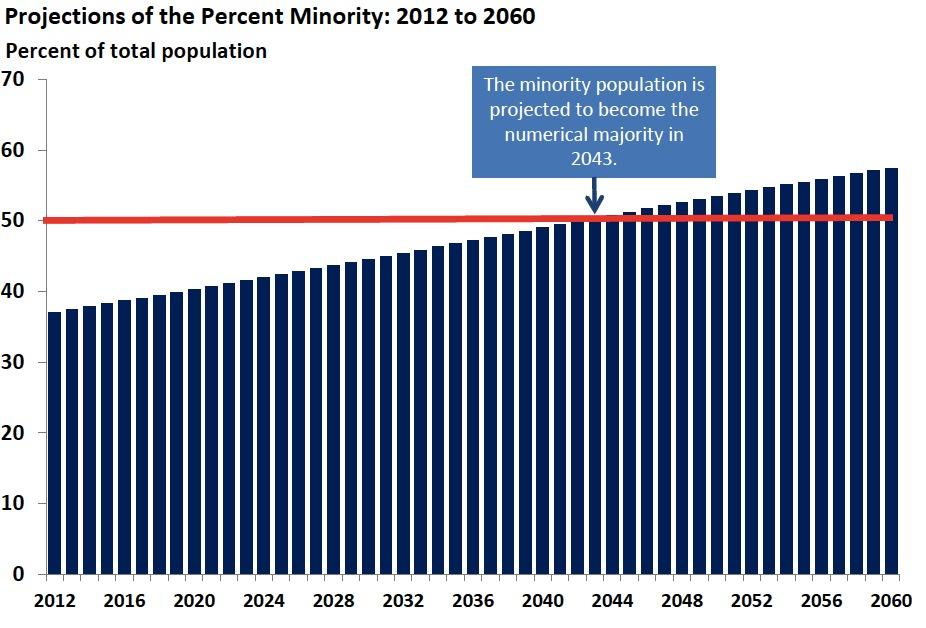 Among multicultural consumers, Hispanics are the fastest-growing group, expected to account for over half of all population growth by 2020.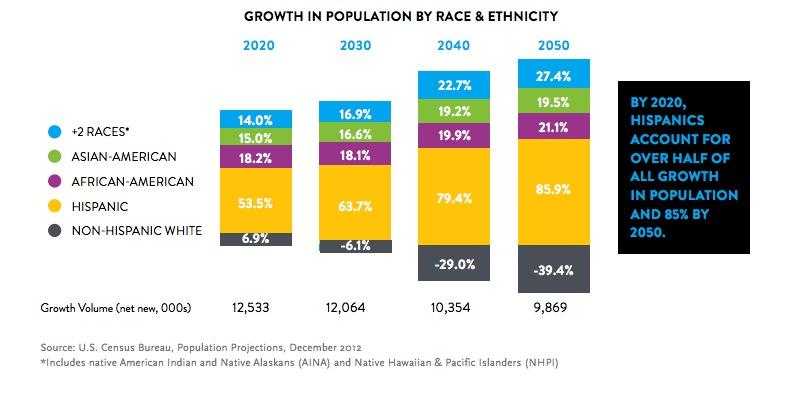 Not only is the number of multicultural consumers growing; their buying power is also growing at an exponential rate. This has a lot to do with the fact that they tend to be younger on average and live longer.
U.S. Immigration Trends
America has always been a nation of immigrants, and migration is expected to remain a key factor in population growth over the next few decades.
While migration is on the rise, birth rates are dropping and projected to continue to decline. By 2032, according to this Census chart, migration is expected to contribute to more population growth than births.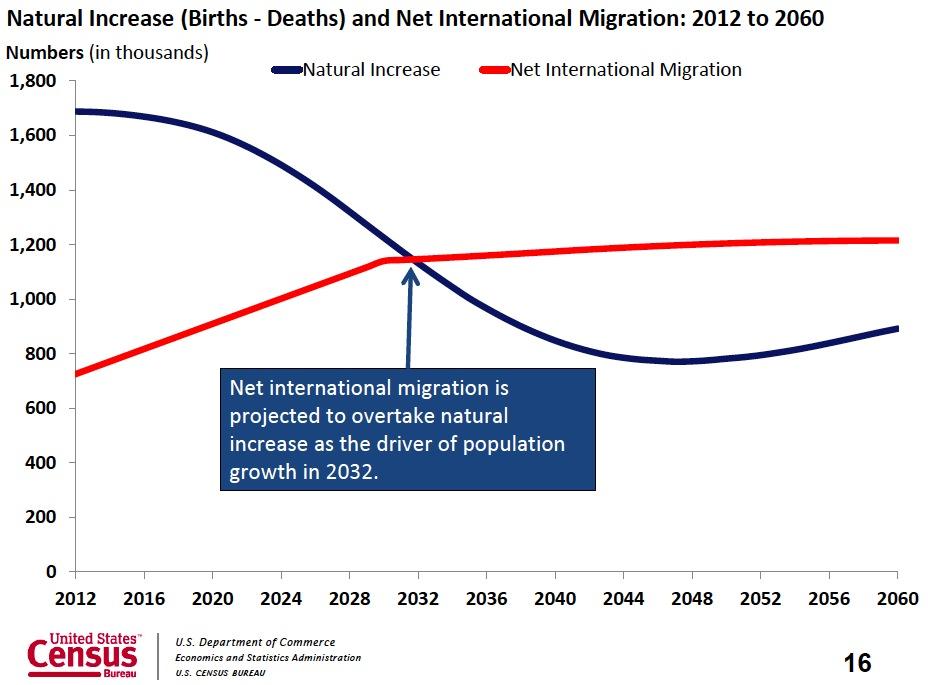 The Most Common Languages In the U.S. Today
Other than English, Spanish is by far the most common language in the U.S. today and will continue to be more prevalent in the decades to come. More than 39 million people reported Spanish as their primary language, according to 2016 Census data.
While nearly 23 million of them said they spoke English "very well," about 16 million reported speaking English "less than very well."
The widespread growth of Spanish-speaking consumers may not be surprising considering the massive growth of the Hispanic population in the United States, but there are other languages you may not have expected.
Aside from English and Spanish, here are the top 10 most common languages spoken in the U.S., according to Census data:
Chinese (including Mandarin and Cantonese) - 3.2 million
Tagalog (including Filipino) - 1.7 million
Vietnamese - 1.4 million
French - 1.2 million
Arabic - 1 million
Korean - 1.1 million
German - 964,000
Russian - 900,000
Hindi - 737,000
Portugese - 699,000
Most Common Languages In the U.S. by State
Of course, the most common languages today and in the future will vary by region.
For instance, in Alaska, a number of native languages are more popular than Spanish, while in Hawaii, people are more likely to speak Ilocano, Samoan, Hawaiian or other Austronesian languages.
In much of the Midwest and Central Plains, German is the most common language other than English or Spanish. In Nevada and California, it's Tagalog; in Michigan, it's Arabic.
This map by Slate, based on U.S. Census data, shows a breakdown of the most common languages in the U.S. by state, other than English and Spanish.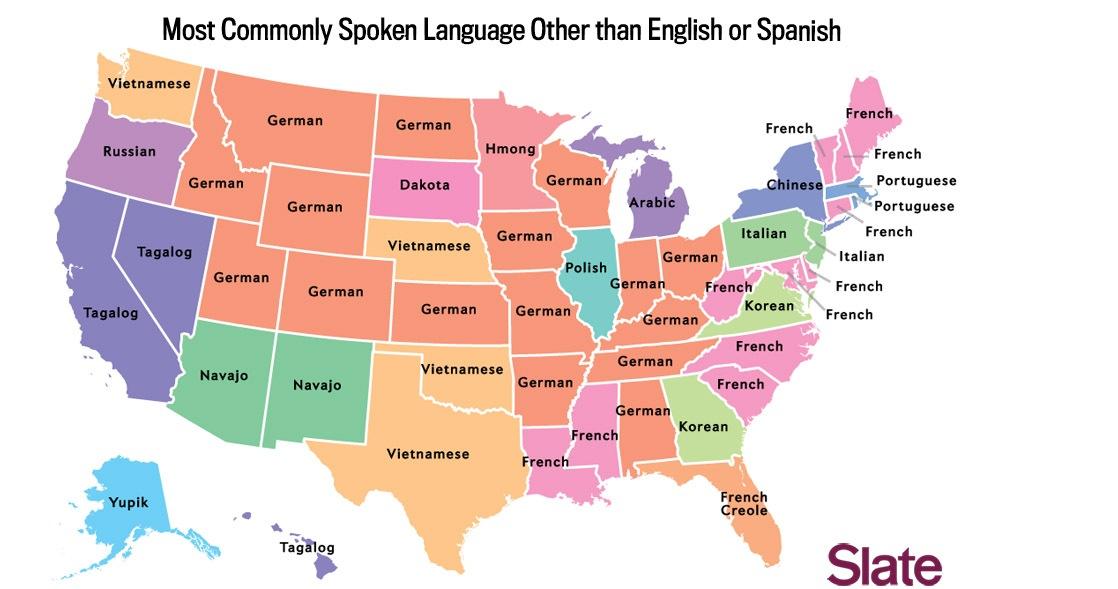 Will You Be Ready To Serve Your Future Customers?
If you haven't already noticed a growing diversity among your customers and the languages they speak, you're bound to in the future. Understanding regional population trends in your area and the most common languages spoken there can give you a better sense of how best to meet their needs. However, it's impossible to say with certainty who will walk through your doors on any given day. If you are committed to providing the best possible service, you need to be prepared for any scenario.
Hiring bilingual employees in the most common languages of your customers is a good first step, but if it's just a few people, they cannot always be available. And you cannot possibly hire someone for every language you may need.
Working with a language services provider is the best way to ensure you have quality interpretation and translation services available at all times, even at a moment's notice.