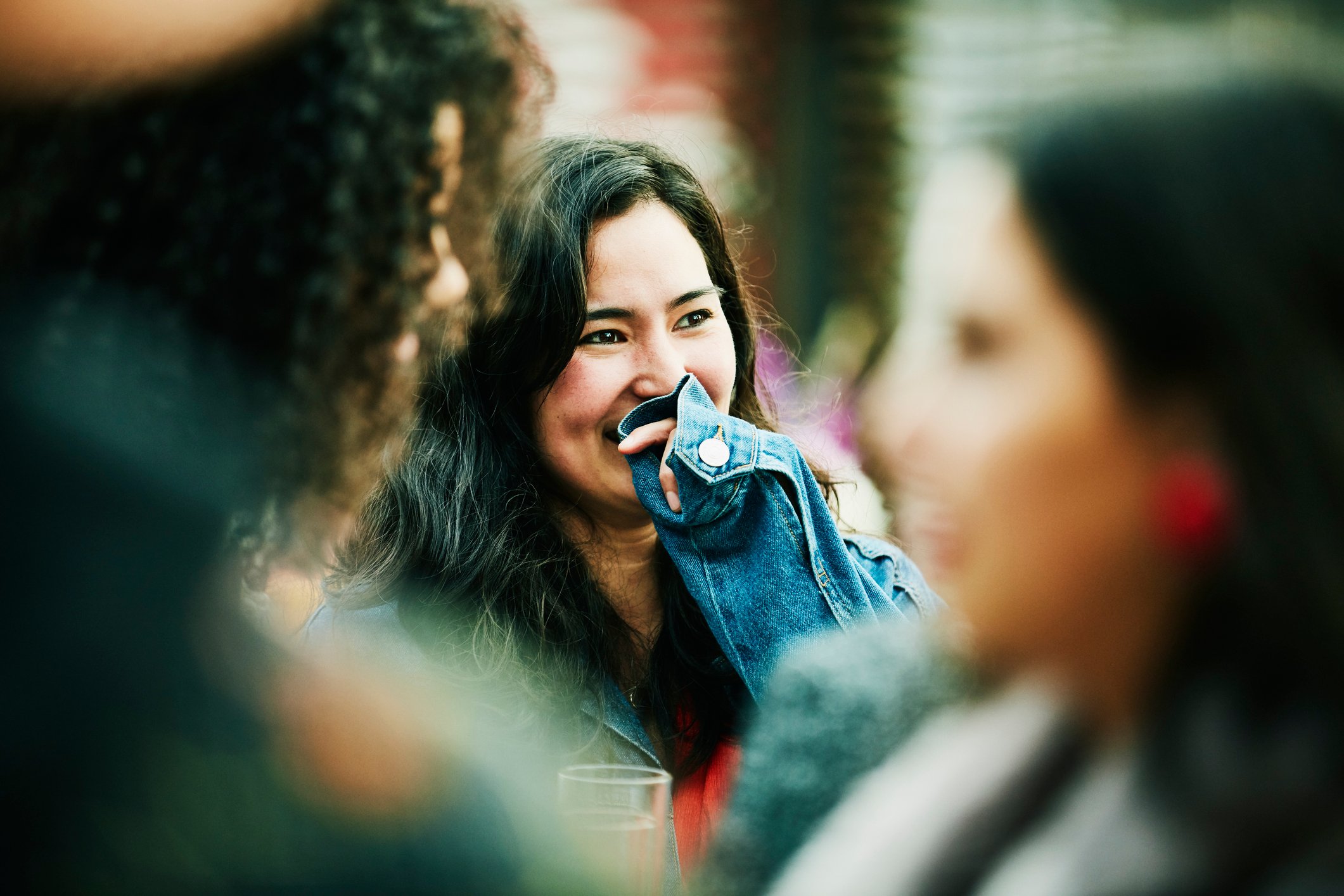 Latinos are a rising economic powerhouse, not just in the U.S., but on the global stage. If U.S. Latinos were a standalone country, they would account for the fifth largest GDP in the world, according to a new report.
The total economic output of U.S. Latinos reached $3.2 trillion in 2021, inching closer to Germany's and staying ahead of India, France, Russia, and the United Kingdom, according to the report being released on Wednesday. It's the first time the Latino GDP has crossed the $3 trillion threshold.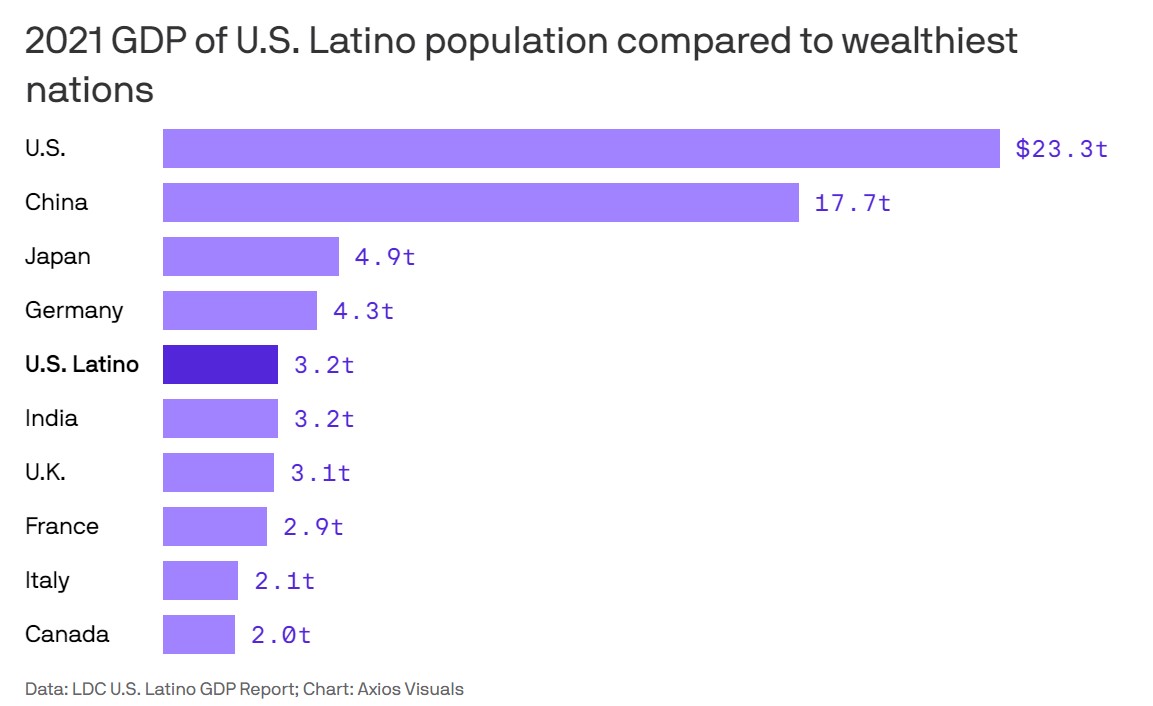 The report states that Latinos have in recent years significantly bolstered the U.S. economy through population growth, a high degree of workforce participation and increased productivity linked to educational attainment.
The study by the Latino Donor Collaborative, a non-profit organization researching Latino issues, will be unveiled at the L'attitude conference in Miami. It was conducted in partnership with Wells Fargo and Arizona State University.
"If Latinos living in the United States were an independent country, the U.S. Latino GDP would be the fifth largest GDP in the world," say the authors of the 2023 report. Moreover, they say, GDP from this demographic grew at a rate of 7.1 percent in 2021, 2 percentage points faster than non-Latino GDP.
In fact, from 2010 to 2020, the U.S. Latino GDP was the third-fastest growing among the 10 largest world GDPs, the study says.
A Disproportionate Impact
Despite only being 18.6 percent of the population, Latinos have been responsible for 73 percent of the growth of the U.S. labor force since 2010. From 2010 to 2020, Latinos added workers to the U.S. labor force at a rate nearly 15 times that of non-Latinos.
"The 62 million Latinos in the U.S. produced an economy bigger than that of entire major nations," said Dr. David Hayes-Bautista, director of UCLA's Center for the Study of Latino Health and Culture.
Hayes-Bautista said that Latinos are spread out across a wide range of industries and sectors. The largest sector, which makes up about 15% of the Latino GDP, may surprise people.
"The biggest sector, and the one with the fastest growth for Latinos, is not agriculture, it's not small business; it's finance, insurance and real estate," said Hayes-Bautista.
Consumption Growing Just as Fast
Despite the numerous challenges faced by the Latino community in recent years, especially with the disproportionate impacts of the COVID-19 pandemic, their economic output has been seismic, as has their consumption.
Their consumption alone stood at a striking $1.84 trillion, with their real consumption growing more than three times faster than that of non-Latinos.
The 10-year review from 2011 to 2021 places the U.S. Latino economy's growth rate behind only China's (7.7%) and India's (6.2%). Other highlights include an annualized growth of Latino income at 4.7%, and a 4% growth in their purchases of goods and services, both outpacing the rates of non-Latinos.
Intriguingly, this year's report offers a breakdown of the Latino economy by state, revealing significant contributions from states like California, Texas, and Florida. The report suggests that California's Latino economy would rank 21st globally, sitting between Poland and Switzerland.
Poverty Still Holding Latinos Back
However, the report does not veil the disparities and challenges. Despite their economic strength, many in the Latino community still grapple with economic inequalities. About 17% live below the national poverty line compared to the national average of 11.6%. Puerto Rico and Alabama report particularly high poverty rates among Latinos.
José A. Jurado, a research economist at Arizona State University and co-author of the report, commented on these findings.
Poverty is keeping the Latino GDP from growing even more," he noted, stressing the urgent need to address educational disparities that remain a significant hurdle for many in the Latino community.
A Source of Growth
Hispanic Heritage Month brings an opportunity to look at where we might find new energy to build the country's future.
According to the Bureau of Labor Statistics 78 percent of the new workers entering America's workforce between 2020 and 2030 will be Hispanic.
Analysis by UCLA's Latino Policy and Politics Institute (LPPI) found that between 2000 and 2020, the Hispanic population increased at a greater rate than the entire state population in every state in America.
A Language Barrier Remains
According to a study released earlier this year by Pew Research Center, roughly 30 percent of Latinos living in the U.S. do not speak English fluently. Almost 70 percent continue to speak Spanish at home, according to a separate report.
We also know from a 2020 CSA Research study of shoppers from 29 countries on four continents, that nearly 80 percent of respondents said they prefer purchasing products with information provided in their native language.
This means that when companies only conduct business in English, they are leaving a significant amount of U.S. Latinos' buying power untapped.
LanguageLine Can Help
For more than 40 years, LanguageLine has been helping companies reach their full potential by reaching all audiences that may have a need for their products in services. When you work with LanguageLine, you effectively hang a sign that says "240 Languages Spoken Here." Please visit our website and schedule a free consultation so we can learn more about the opportunities that exist for your business.