Top Lessons Learned from Interpreters
Posted by Greg Holt on July 9, 2015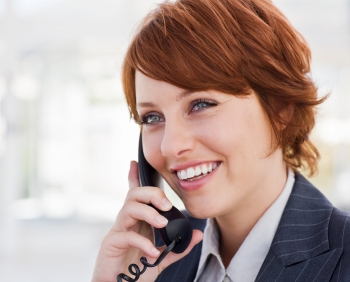 While we pride ourselves on the world-class interpreter training program we've developed, and we're confident in saying that our team of interpreters are among the very best in the world, one of the most exciting learning opportunities we experience as an organization is when our interpreters can teach us a thing or two!
Every day, our team of thousands of telephone interpreters covering more than 200 languages interacts with our valued clients and the limited English proficient people they serve. Over the course of these tens of thousands of interactions, our interpreters are exposed to many different situations, methods, and functional requirements.
With so many moving parts in the process – both on our side and on our clients' side – there are literally millions of things that can potentially get in the way of an optimal interpreting session.
Hearing the voice of the interpreter
Our professional interpreters are in the best position to identify service challenges and process improvements early on before too many people are inconvenienced by the issue. That's why we've set up a "support request" work flow that allows our interpreters to immediately notify our Quality Assurance department about anything they run across during their daily activities that affects the quality of the solutions we offer.
The support request system automatically routes these requests to the departments that need to be involved: Information Technology, Accounts Services, Training… to make sure issues are resolved quickly, efficiently, and completely.
Here are some examples of how issues have been resolved through this process:
In most cases, these situations are small in nature, such as technical issues.
For example, our QA department once received a series of notifications from various interpreters in a short span of time indicating that calls from one high-volume client were all coming in with spotty audio – static, dropped connections, or garbled speech. Through the support request process, a trend was identified quickly, IT was notified and diagnostics were begun. After quickly ruling out a technical issue on our end, our IT team was able to reach out to the IT team at the client and help them identify an issue in their telecom system that they hadn't yet known existed. The problem was resolved and calls were able to be completed with greater accuracy and speed as a result.
In other cases, the issue is educational in nature.
For example, a series of notifications from our interpreters involving representatives from one client allowed us to notify them of educational opportunities they were able to include in ongoing training and development. This education made future calls from this client go smoother because the client reps were more familiar with the interpreting process and were ready with the information our interpreters needed to best assist.
In another example, the educational opportunity was on our side. In this case, one of our financial clients had developed a new, more extensive, disclosure script that had to be read to their customers at the start of each conversation for legal reasons. After a few slow and halting interpreting sessions involving the new disclosure, a support request from one of our interpreters led to our requesting a written copy of the disclosure so that all of our interpreters could reference it in written form when working with that client. Future sessions went much smoother as a result.
Some cases have actually been fairly serious.
For example, in one case, bilingual nurses at a busy hospital had begun calling in to request that our interpreters provide their interpreter ID numbers for the sake of filling out paperwork on conversations the nurses had already had with LEP patients. In the nurses' minds, this was efficient because they could have the conversation and move on with helping the patient, then fill out the paperwork during a slow moment. They weren't seeing the legal and ethical implications of sidestepping the hospital's compliance-based procedures for involving a professional interpreter in every non-English patient interaction. Follow up from a support request resolved this issue also.
By listening to the voice of our most valuable resource – our team of linguistic professionals – we've been able to further our mission of providing top quality language access solutions to every client and the limited English proficient people they serve. As the language access industry continues to grow in complexity, this simple fact won't change.
Find out more about professional language access services and how a professional, trained interpreter can help your organization better serve a global audience.