February 4, 2020
by Mike McMahon
Three Key Requirements of the CMS Accuracy and Accessibility Study

With the Medicare population growing more diverse by the day, it is essential that plans provide effective communication to all senior citizens, including those who speak limited English.
To ensure that Medicare Advantage (Part C) and Medicare Prescription Drug Benefit Plans (Part D) are providing this level of communication, the Centers for Medicare and Medicaid Services (CMS) monitor the call centers of these plans each year from February to June.
CMS rates Medicare plans on a 1 to 5 star system where 1 indicates poor performance and 5 excellent performance. The rating measures five aspects of the patient journey, including "access." This includes interpreter access and availability.
DOWNLOAD: CMS Call Center Monitoring Study 2020 Edition
Three Key Requirements
The Accuracy and Accessibility Study measures performance in assisting limited-English proficient (LEP) callers. This includes measuring both the availability of an interpreter and the accuracy of the information provided by the Medicare plan Customer Service Representatives (CSRs) in these languages: Cantonese, French, Mandarin, Spanish, Tagalog and Vietnamese.
Test calls are made Monday through Friday from 8 a.m. to 8 p.m. local time, according to the service areas of the plans.
The following requirements must be met by plans to ensure success in the CMS Accuracy and Accessibility study:
10 MINUTES: Once the CMS test caller initiates a call, a maximum of 10 minutes is allowed to navigate the Interactive Voice Response (IVR) process, including any "hold" time, to reach a live customer service representative.
8 MINUTES: The next measure is "complete" once the CMS test caller has an interpreter on the line and an introductory question is answered before beginning the first of three survey questions within eight minutes of reaching a plan CSR. Depending on the type of plan, this question is typically, "Are you the right person to answer questions about Medicare Part C/Part D?"
7 MINUTES: The final measure includes three survey questions asked of the plan Customer Service Representatives by the test caller. Each of three questions is allowed a maximum of seven minutes. The questions are taken from CMS publications, such as the 2020 edition of "Medicare and You" and plan-specific benefit information.
DOWNLOAD: CMS Call Center Monitoring Study 2020 Edition
Ensuring Compliance
CMS calculates the number of "completed" calls out of all of the foreign language test calls made to the plan and uses that figure in their scoring and to ensure a plan's compliance. A plan may pass the compliance portion during the test call process with a score above 75 percent (and therefore not be subject to corrective action). CMS uses another metric for assigning the Star Ratings. The 2020 Star Rating cut points are based on the data from the previous year's audit and can be found in the Medicare 2020 Part C & D Star Rating Technical Notes.
While each plan wants to achieve a successful compliance grade, they also want to score much higher to achieve a 5-Star Rating. According to CMS, cut points aren't set for call center measures until CMS has all the data to be rated. Therefore, the cut points for the data collected during the upcoming test period won't be published until after the test period has ended.
LanguageLine Can Help
LanguageLine is the only language-services provider that actively works to ensure that your plan earns a five-star rating.
LanguageLine's interpreter training incorporates the meaningful use of Medicare-related terminology into the education and assessment provided to our interpreters. This ensures they will be comfortable and proficient with the terminology used during the audit.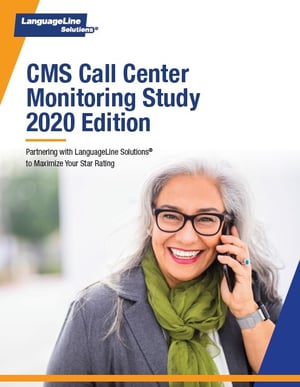 LanguageLine has ongoing contact with CMS, working closely with the Centers for Medicare and Medicaid Services throughout the year to stay on top of changes in the process, such as languages to be tested, CMS scoring changes, and auditing issues.
Meanwhile, our Workforce Management Team ensures appropriate interpreter staffing levels for CMS-targeted languages during the test period.
We also offer real-time process improvement, working with clients as quickly as possible to identify issues and escalate resolutions to ensure ongoing success.
Please contact us today to learn more about how LanguageLine can assist your plan during this period.