The Story of a Nurse, Amy, and How She Works With A Video Interpreter
Posted by Suzy duMont-Perez on July 2, 2015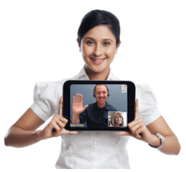 Amy is a nurse at a busy urban hospital, and she has the sore feet and tired smile to prove it. She really loves what she does, and her number one goal is to make sure every one of her patients gets the very best care as quickly and easily as possible.
But, there's also a lot of bureaucracy and red tape that surrounds her work, and it seems no matter how many people come on staff, it's never enough to handle the demand. So, sometimes, Amy has to do the best she can under difficult circumstances.
For example, earlier this morning, Amy was asked to handle intake for a four-year old child who was having abdominal pain. The boy's mother spoke Spanish only, and she was understandably stressed out. The language barrier made matters even worse, because Amy doesn't speak Spanish. Now, the hospital does have a small interpreting department with six interpreters available on staff at all times, four of which speak Spanish. But, as it turned out, all four of them were tied up with other patients at the time, two of them in the OR.
What could Amy do?
Fortunately for her, the hospital had recently piloted a new program through LanguageLine Solutions video interpreting application, and Amy had been trained to use it the week before.
The Video Remote Interpreting Solution
The video interpreting solution was designed to marry the convenience and immediacy of telephone interpreting with the valuable non-verbal dynamic of in-person interpreting.
In other words, it's a next-best-alternative to having an interpreter available on-site at all times to handle every interpreting need. That would be a fantastic option, but it's often difficult to manage and cost prohibitive, especially if there's a need to cover multiple languages.
Telephone interpretation fills that gap in many cases, and it still stands as the go-to option for most, situations, but not all. There's a lot to be said for the value of all the non-verbal cues – like body language, facial expression, and gestures – that an in-person or video interpreter brings to every interaction especially in potentially stressful situations like the one Nurse Amy finds herself in. Not only can she physically see all the visual cues of the child and mother that will help her provide outstanding care, but they too can see the compassion and confidence in Nurse Amy's facial and physical expressions. All of these "face-to-face" cues, that are not available over the phone, help create a more efficient, and effective exchange of information.
In fact, studies have shown that more than half of the impact of spoken language comes across in our body language, which can't be seen on a telephone. And, of course, for the deaf or hard of hearing for whom telephone interpretation simply isn't an option, ASL video interpretation works perfectly.
The Interpreter-on-Wheels
So, going back to Amy in the examination room with her patient and his Spanish-speaking mother…
Discovering that no on-site interpreter is available to assist with this intake conversation, Amy goes out to the administration desk and brings back the "interpreter on wheels," a device that is essentially an iPad attached to a small wheeled cart that supports the tablet at chest level. She brings it back with her to the examination room, taps the screen two times to access the video interpreting app, and connects to a Spanish interpreter named Ana.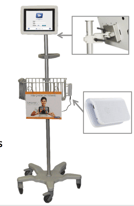 With a smile and a friendly "Hola," Ana begins conversing with the boy's mother. An incredible change comes over the mother's face as she is able to understand and clearly communicate with Amy about her son's condition. The Interpreter-on-wheels gently swings back and forth between them as Ana quickly and accurately interprets every word being said so that both Amy and the patient's mother are confident that they understand and are being understood.
Amy fills in the boy's chart and heads off to arrange care, leaving the iPad with him so that the next nurse or doctor to see him will have the same easy and fast experience.
If you'd like to see our video interpreting app and the Interpreter on Wheels program piloted at your facility, find out more about Video Interpreting services.