The Personal Interpreter - Don't Leave Home Without One
Posted by David Bethea on June 22, 2015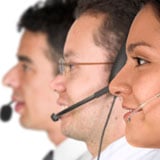 After seven and a half hours in the air with only a trip to the restroom to stretch your legs, you're now making your way through the crowded concourse at Charles De Gaulle Airport in Paris. It's 2:00 AM (in your head, anyway) and you can't think of anything better than a soft bed and a fluffy pillow.
You step outside an hour later (after all the international customs hassle) and flag down a small Taxi Parisien. You heave a sigh as the driver puts your bags in the back and you get yourself situated in the back. He slides into the front seat, glances at you in the rearview mirror, and says,
"Où voulez-vous aller ?"
O… K….?
"Sorry," you say, "I don't speak French." You're here for a business meeting with colleagues in the Paris office, but they all speak English. They assured you almost everyone in Paris does.
"Je ne parle pas anglais." he says with a quizzical look. And, although you don't speak a word of French, you have a pretty good idea what he said.
There are three ways this scenario can continue…
As an exhausted traveler who wants nothing more than to make it to your hotel and sleep away the rest of your jet lag, a language barrier is the last thing you need right now. But that's exactly what you have.So, there are three ways this situation can develop:
You can struggle to make the taxi driver understand the name of your hotel and hope his comments are in the affirmative, then sit back and trust he's going to get you where you need to go.
You can get out of the taxi, flag down another one, and hope this driver speaks English.
Or, you can pull out your phone, get your Personal Interpreter on the line, and get to bed. Everyone has a personal interpreter, right? Well, now you do.
The Personal Interpreter: An Interpreter in Your Pocket
For over 30 years, LanguageLine Solutions has provided industry-leading language access services for businesses worldwide, including on-demand telephone interpreting in upwards of 200 languages.
With the addition of the Personal Interpreter service, this same on-demand telephone interpreting experience is available to anyone. The service is billed on your credit card on a per minute basis, and can be accessed through a simple smartphone app. There are no contracts or prepaid limitations. Instead, you pay for only what you use.
That means that setting up a free account serves as an instant, always-available, interpretation insurance policy against annoying and even frightening situations like the one described above.

How can a personal interpreter help you?
So let's assume, like a smart and savvy traveler, you've already prepared for your Parisian journey by setting up a free Personal Interpreter account before leaving on your business trip.
The taxi driver is staring at you with a quizzical look on his face. You hold up your finger in the universal, "hold on one second" gesture, and get out your phone. Within a few moments, you're on a call awaiting an interpreter. You place it on Speaker Phone, and both you and the driver smile as you hear,
"Je suis l'interprète 1 002. Comment puis-je vous aider ?" (This is interpreter 1002. How may I help you?)
Now, you can sit back, relax, and enjoy your time overseas, knowing a language barrier will never be an issue no matter the circumstance. If that sounds like a great way to improve your next trip, set up your free Personal Interpreter account today.