June 17, 2020
by The LanguageLine Solutions Team
REPORT: Hispanics Make Up a Third of All COVID-19 Cases

Hispanics comprise just 18 percent of the U.S. population, yet they make up 33 percent of all COVID-19 cases.
This is according to a report released by the U.S. Centers for Disease Control and Prevention. It offers a complete picture of who in the United States has been diagnosed with Covid-19 and how they fared.
According to the report, "the coronavirus pandemic continues to be severe, particularly in certain population groups. These preliminary findings underscore the need to build on current efforts to collect and analyze case data, especially among those with underlying health conditions."
INFOGRAPHIC: The Persistence of Minority Health Disparities
New data from CDC also shows that the death rates among Black and Hispanic people are much higher than for white people, in all age categories.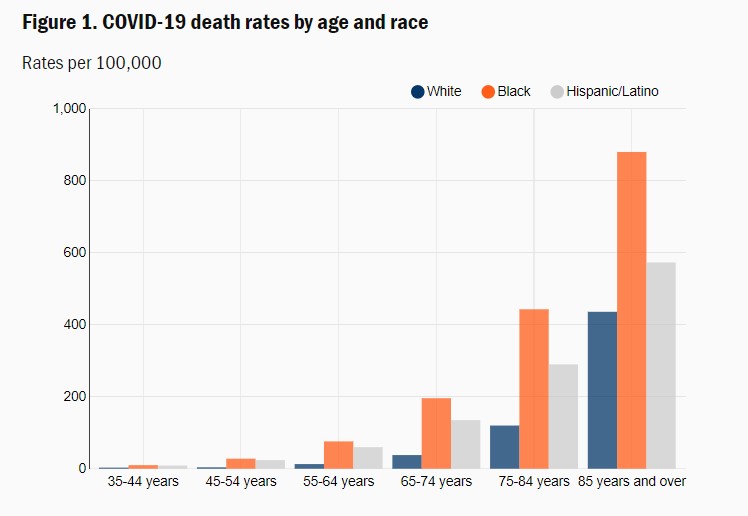 Among cases with known race and ethnicity, 33 percent were Hispanic, 22 percent were black, and 1.3 percent were American Indian or Alaska Native. The report notes that "these findings suggest that persons in these groups, who account for 18 percent, 13 percent, and 0.7 percent of the U.S. population, respectively, are disproportionately affected by the COVID-19 pandemic."
The report comes on the heels of a week that saw the national case count cross 2 million.
Cases have increased in 18 states over the past week, with six states reporting more than a 50 percent jump. This has led some officials to pause reopening efforts.
Why Is This Happening?
People of color are bearing the brunt of the disease because their housing situations, occupations, exposure to pollution, and access to health care coverage.
Another factor is language. Hispanics make up a significant portion of 8 percent of the U.S. population that is limited-English speaking. These individuals are less likely to receive health warnings and instructions that originate in English, leaving huge swaths of our population vulnerable.
Shining a Light
The pandemic has been like a spotlight that exposes the massive health discrepancies for racial and ethnic minorities. Racial justice has rightly joined the pandemic at the forefront of our consciousness. Minority health disparities, which we illustrate in this new infographic, are at the intersection of these two issues.
Language can play an essential role in reducing these disparities. Please contact us so that we can talk about steps we can help you take in improving minority health.