Partnering with Professional Translation Services Expands Global Growth
Posted by Alex Macnab on March 21, 2016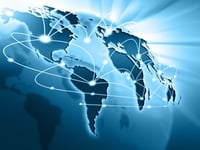 In today's global economy, communicating successfully in different languages and unique cultures is challenging. To maintain visibility worldwide and to connect effectively in any language, every aspect of your company must maintain consistency across cultures through messaging, as well as look and feel. In-language documentation and digital content localization allows customers from around the world to easily do business with you, creating trust and loyalty while reducing questions and concerns.
Research confirms that organizations that increase their expenditure on translation services are more likely to:
Expand into new markets,

Develop greater customer loyalty

Increase their revenue*
How can you expand your company to acquire the language expertise and capabilities? That's where a Language Services Provider (LSP) can help. Imagine working with a company that can seamlessly integrate with your business to provide language services just like they were created in-house but without hiring a large multilingual staff. What if you could easily communicate in any language with your employees and customers around the world through centralized language services?
A professional LSP can deliver several solutions to help you globalize including:
Connecting with the right language access company is imperative. When deciding on an effective partner, look for one that takes the time to become intimately familiar with your company, your products, and the multilingual audiences you serve. Consider asking these questions:
Can they build a customized solution specifically for you? This results in higher quality, shorter turnaround times and lower costs.
Will they be able to deliver exactly what you need, and only what you need?
Do they have the resources and experience to successfully support all languages and modalities without sacrificing quality, performance, or customer care?
Translation Services Helps Businesses Scale
One company recently chose LanguageLine Solutions to meet its translation demands because it couldn't scale without the partnership of a professional language services company.
World Wide Technology (WWT) is a global technology integrator with more than $7 billion in annual revenue and over 3,000 employees. Through its culture of innovation, WWT inspires, builds and delivers business results, from idea to outcome.
LanguageLine's full suite of language solutions is bridging the language gap between their non-English speaking clients and their projects as well as improving employee communication around the world.
LanguageLine Solutions has partnered with WWT to provide translation and localization, training, and on-demand phone interpreting to enable accurate and meaningful communication with WWT's global employees and customers whose English proficiency is limited.
Through both written translation and spoken interpreting, WWT now has access to trained professional linguists in more than 240 languages 24/7/365, all from one provider. LanguageLine is working closely with WWT to build integration channels to allow for quick and easy project turnaround. Translation service requests are now routed to LanguageLine Solutions, ensuring proper budget approvals and oversite via WWT's internal ticket system. Through interpreting and translation, WWT can now ensure smooth business interactions anywhere in the world.
According to Mark Franke, Vice President of Global Supply Chain for WWT, "LanguageLine's experience and knowledge, as well as their client service, will help us achieve global growth and communicate with our internal and external customers."
How can we help your company grow?

*Common Sense Advisory Report 2012