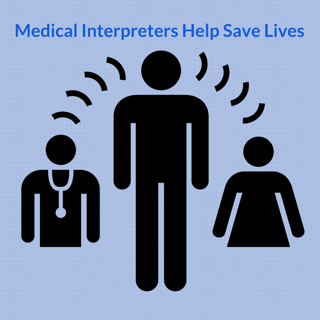 Imagine the phone is ringing and you know you could be moments away from changing someone's life.
That thought is permanent in the minds of every LanguageLine Solutions® medical interpreter. These accomplished interpreters field the urgent calls—from doctors, nurses, paramedics, and even patients themselves—where time and accuracy are often the difference between a spiraling crisis and comforting relief.


Who is on the other end of the line? Real life stories.
To truly understand what it's like to be a medical interpreter, we have to begin at the other end of the line, with the limited English speaking patients. Life for them is trying enough. Add to it the pressure of an imminent baby delivery, a late-night medical emergency, or understanding complex insurance forms, and you begin to see the difficulties they face and the emotions they encounter ranging from exasperation to depression to outright panic. That's where LanguageLine's over-the-phone and video interpreters work their wonderful magic.
For instance, interpreter Frezghi K. received a call from a frightened, expectant mother at a hospital. The mother knew something was wrong with her baby but couldn't communicate the urgency to the nurse. When Frezghi explained the details, the nurse sprung into immediate action. The doctor commented afterward, if not for that conversation, the woman may have lost her baby.
And then there's Evelina S. She encountered an 84-year-old man who was so overcome with depression that he slit his wrists on the 15th anniversary of his wife's death. With a calm voice and understanding tone, Evelina was able to help a doctor save the man's life.
A third interpreter, Firas A., was chatting on the phone with a nurse and her cancer patient while they waited for the doctor to arrive with test results. The wait seemed like an eternity. The patient wasn't optimistic and Firas began to expect the worst. The doctor finally appeared and declared that the patient was cancer-free. Overwhelmed by his own joy, Firas had to compose himself before interpreting the good news.
And there are countless other stories just like these.
Medical training for interpreters.
If you think that all these compassionate professionals do is interpret words from one language into another, your impression wouldn't be an accurate one. LanguageLine's medical interpreters receive specialized training and testing in order to practice their trade. That means they are intimately familiar with medical terminology and protocols, are trained to remain calm during a crisis, and are schooled in cultural sensitivity. All of which prepares them for any situation that might arise. Our trained medical interpreters enable accurate diagnoses, reducing unnecessary testing, increasing efficiencies and lowering the cost of patient care.
While the benefits of language interpreting are numerous, what LanguageLine interpreters' value most about their work is hearing the gratitude expressed by patients. Mario C. summed it up this way, "I have helped with transplants and delivering children, all using my voice. LanguageLine makes a difference. I make a difference."
Read the stories of patient encounters, in the words of LanguageLine's professional interpreters, at Real Life Interpreter Stories: http://www.languageline.com/company/careers/interpreter-stories/.
If you'd like to learn more about how our medical interpreters can help your organization improve patient satisfaction and save lives: