September 13, 2018
by The LanguageLine Solutions Team
Language Training for Medical Staff to Improve Health Care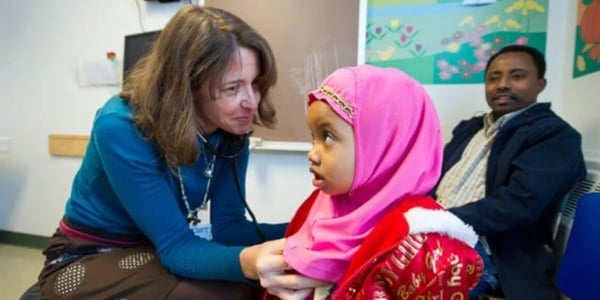 A non-English-speaking mother-to-be arrives at a hospital to give birth, unaware that her pregnancy is high-risk. The clinic where she had her pre-natal appointments did not use professional interpreters. Instead the clinic relied on the serious news being conveyed by the woman's sister-in-law, who did not have the heart to explain the diagnosis. The woman is told at the hospital that her child will not make it.
A 9-year-old Vietnamese girl arrives at the emergency room with what appears to be a severe stomach flu. The girls' parents do not speak English. Instead of using a professional interpreter, hospital staff instead speaks only to the girl and her 16-year-old brother about her prescription, sending them home with instructions that the girl should return if she experiences specific side effects. The girl ends up having a negative reaction to the drug. She suffers a heart attack and dies.
These real-life outcomes seem as if they should have happened in days gone by. Sadly, these events took place recently. Even worse, they are not uncommon despite readily available on-demand language services.
Title VI of the Civil Rights Act of 1964 and subsequent rules were created to protect Americans from discrimination on the basis of national origin. Any facility that delivers services while receiving federal funds (for example, Medicare and Medicaid) has to provide meaningful access to those services regardless of national origin. In the case of those with limited English proficiency, this means providing qualified language access so patients receive the same level of care as English-speaking patients.
Unfortunately, a recent NPR article ("With Scarce Access to Interpreters, Immigrants Struggle to Understand Doctors' Orders") produced by UnDark exposes the many ways that non-English speakers in the U.S. continue to rely on friends and family as interpreters, despite laws - including Section 1557 of the Affordable Care Act - that prohibit their use as interpreters (except in very limited circumstances.) This failure to ensure effective language access has had a direct impact on the health of patients who are limited-English proficient.
The article also places a clear focus on the need for greater medical-staff training on language access, including when to work with an interpreter, how services can be accessed, and which modality is appropriate for a given situation.
A Dark Picture
According to the article, recent studies paint a dark picture when it comes to the current state of language access in hospitals:
A 2016 survey of more than 4,000 hospitals by the American Hospital Association found that only 56 percent offered interpretation and translation services.
Of 1,373 malpractice claims sampled, at least 35 were linked to a failure to provide adequate language access, according to a 2010 report by the University of California School of Public Health.
Despite the 2010 Affordable Care Act mandating that data on race, ethnicity, and patients' language needs be collected, a 2017 study published in the journal Health Affairs said that such data in commercial, Medicaid, and Medicare-managed plans "remained largely incomplete."
Language Services Result in Better Outcomes
On the positive side, several studies have identified a correlation between the availability of language services and improved patient satisfaction, including lowered readmission rates and fewer malpractice claims.
For example, a 2017 study found that a hospital could avoid nearly 120 readmissions and save more than $160,000 per month by providing consistent access to interpretation.
Conversely, an absence of professional interpretation often leads LEP patients to not grasp their diagnoses, leaving them with greater pain and anxiety, according to a 2016 review of palliative care services.
"The larger, forward-looking health care providers understand that language access benefits bottom lines," said Bill Rivers, executive director at the Joint National Committee for Languages.
Why the disconnect? Given the correlation between language services and improved outcomes for patients and medical facilities, why isn't language access a greater priority?
The Answer Begins with Training
There is no single reason as to why language access is not given more weight. Evidence suggests the answer may at least begin with a lack of awareness and training on the part of medical professionals.
A five-year survey of more than 1,500 physicians showed that 52 percent were "unfamiliar" or "relatively unfamiliar" with the legal requirements around language access.
In the dental field, 46 percent of dental students reported not feeling adequately prepared to treat patients whose primary language is something other than English, according to a 2017 report.
"The reality is, if you can't communicate with a patient, you can't provide care," said Mara Youdelman, who works on language-access issues as an attorney at the National Health Law Program in Washington, D.C. "(Language access) shouldn't be an add-on. It should be a required part of providing high-quality health care."
Where to Begin?
Language access within healthcare settings is an important civil right. Many organizations find themselves unaware of the specifics around these laws. Even if they've already contracted with a language-access provider, hospitals and medical facilities may still feel that these services are being underutilized.
These issues are not uncommon. LanguageLine can help. For more than 30 years, we have consulted to healthcare organizations on understanding and complying with language-access laws and improving the patient experience.
Our team of implementation experts can provide the support needed to integrate bilingual staff, over-the-phone, video, and onsite interpreting into healthcare facilities, including staff training.
We invite you to learn more about our implementation services and contact us so that we can explore your specific needs.