Language Barriers and Health Disparities – An Interview with LanguageLine CEO Scott W. Klein
Posted by The LanguageLine Solutions Team on May 15, 2019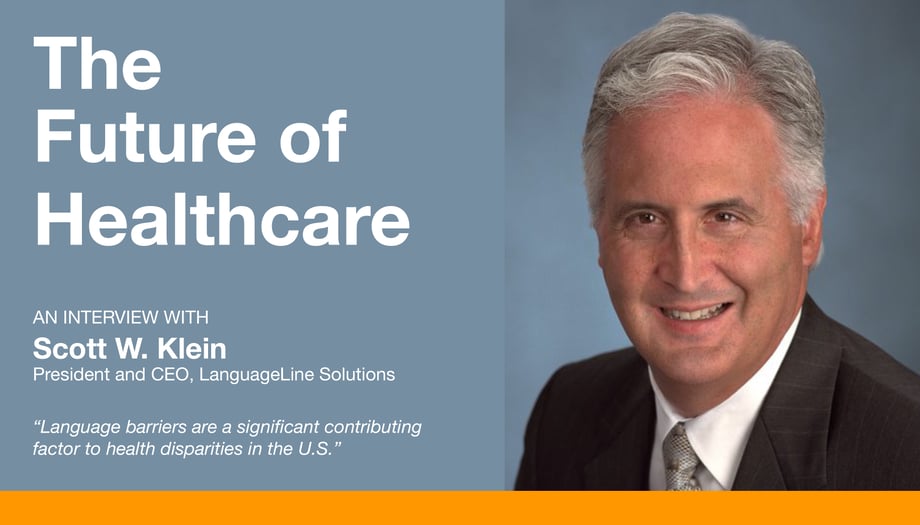 LanguageLine Solutions President and CEO Scott W. Klein recently sat down for a just-published interview with Authority Magazine in which the future of health care in North America was discussed, in particular as it applies to limited-English speakers.
Asked what changes need to be made to improve the overall U.S. healthcare system, he responded:
"We see healthcare issues through the lens of language," Klein said. "To us, it's not shocking that there are massive health disparities for minorities living in the U.S. For example, it's astounding that 45 percent of Hispanic boys and 53 percent of Hispanic girls living in the U.S. are predicted to develop diabetes in their lifetimes. In general, ethnic minorities here are twice as likely to develop a chronic disease compared to their non-Hispanic white counterparts.
"Language barriers are a significant contributing factor to these disparities. They impact access to quality care and result in higher readmission rates for people with limited English proficiency. (We should) reduce these barriers to care by increasing access to qualified medical interpreters — no more relying on family members, children, or untrained staff.
"When healthcare organizations use qualified medical interpreters, fewer errors are made, fewer unnecessary tests are ordered, and quality care improves. Likewise, when patients receive their discharge instructions and patient educational materials in the language they speak, they are less likely to return to the emergency room. Ensuring effective communication for limited English proficient and deaf and hard-of-hearing patients will improve quality of care, reduce readmission rates that are another factor in high healthcare expenses, and improve patient satisfaction. All of this would drive down healthcare costs."
We invite you to read the full interview here.