April 10, 2020
by Lulu Sanchez
Into the 'Epicenter of the Epicenter'

New York City has the highest number of COVID-19 cases in America. Within the city, Queens is the most linguistically diverse borough in the city, with over 160 languages spoken. Within Queens you have several hospitals, which many of us have seen featured on the news because of the record number of patients who have died there.
The evening of March 24, the language-access champion from one of these hospitals sent me a message asking me to call her. When I did she said, "Please, Lulu, can you come and help me? I really need to get the video (interpreting) devices that we just ordered ready. This is a disaster. We are swamped and on top of everything my boss got COVID-19 and he is in the ICU and I'm scared."
This request was coming at a time when NYC was succumbing to an invisible enemy. But I took a deep breath and I said, "Of course I'll help you. I will be there tomorrow". I told my husband I had to go. Without hesitation he said, "Don't worry, I'll go with you and I'll help you."
The next morning, I awoke and turned on the television. The report said that New York had 33,000 reported cases and nowhere had been harder than Queens.
A doctor described the situation at the hospital, saying that all the patients in the emergency room had COVID-19. He said they did not have enough personal protective equipment, and they had to get a refrigerator truck to hold the bodies of deceased patients.
"If New York is the epicenter of the coronavirus crisis in the U.S.," the reporter said, "(This hospital) is really the epicenter within the epicenter."
My heart sank. My thoughts got accelerated. I got nervous. Fear started to take over.
Then I thought to myself, "The client needs me. Those patients need us."
Fortunately I had personal protective equipment at my house. I grabbed gloves, masks, and disinfecting wipes. I put water, soap, and rubbing alcohol in spray bottles. I took a change of shoes and trash bags. Then I prepared the entrance of my apartment with all the same supplies for when we returned.
Before we left the house, I trained my husband one more time on the sequence and procedures that he had to follow when putting on and removing the PPE. Then we washed our hands for the recommended 20 seconds, put on our masks and gloves, grabbed our supplies, and left the apartment for the hospital, which was three miles away.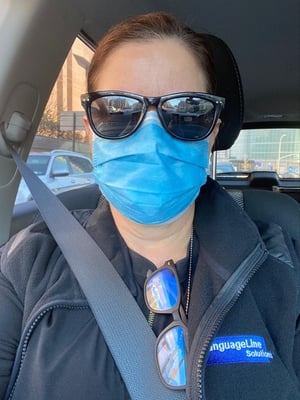 The client smiled when we arrived and kept saying how happy she was to see me. She kept us in the loading dock. "The patient care area is like a war zone," she said. "Even the clinicians don't know what to do."
The environment definitely was like the doctor and reporter had described it on the TV, but seeing it first-hand was devastating. The employees were sad and disoriented. The mood was deeply somber.
We spent about four hours at the hospital, completed the work, and then returned home. The client sent a thank you note saying "YOU ROCK", which brought a smile to my face.
To be honest, I spent the afternoon working and crying because it was hard to fathom not only what I had just seen but the reality that we've found ourselves dealing with.
Several days later, I got an email from the client's boss, who was out of the ICU. "Great work," he said. "Thank you for helping us and our patients at our time of need. We are truly grateful."
Getting this message reiterated the importance of our work and business. For me it says it all, the clients are counting on us because our business is about making life-changing connections and allowing people to understand each other.
I felt honored to serve.
Lulu Sanchez is Director of Implementation at LanguageLine Solutions. You can learn more about our support for organizations dealing with COVID-19 here.