October 19, 2017
by The LanguageLine Solutions Team
How Marketers Are Using Language to Attract Multicultural Consumers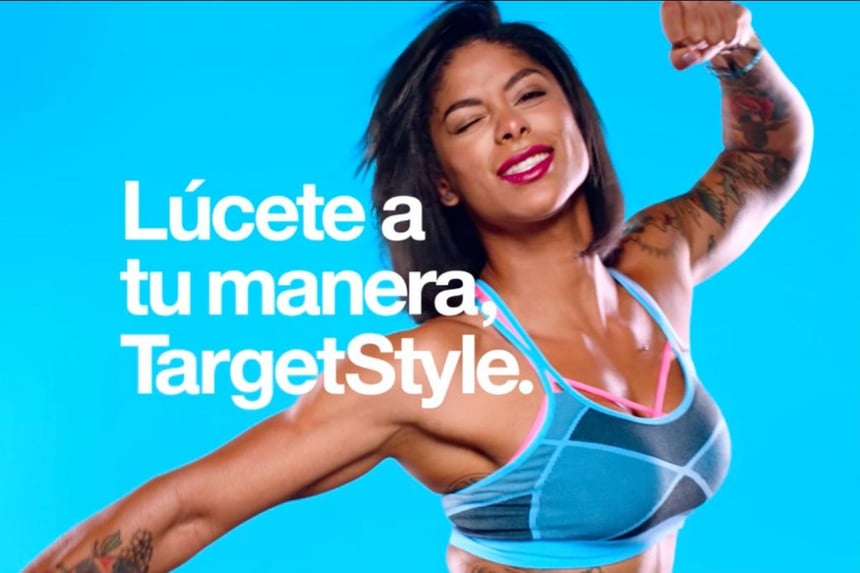 Driven by population growth and expanding buying power, multicultural consumers are transforming the ways marketers and advertisers use culture to connect with increasingly diverse consumer markets. For businesses, this is why investments made now in language will pay off for decades to come.
Between 1990 and 2014, according to Nielsen, multicultural buying power increased from $661 billion to $3.4 trillion, and it will only continue to grow. Because the median age of the multicultural population is lower and the life expectancy longer than those of non-Hispanic whites, these consumers have significantly more effective years of buying power ahead of them.
We've already talked about why language services are critical to the future of retail, as well as how language services in retail can create the sort of personalized, experiential shopping environment that multicultural consumers are seeking these days.
But no matter how wonderful your store's shopping experience and customer service are, they're only effective once someone is in the store. Let's talk about how retailers are using language to market to multicultural consumers.
The Rise of the Multicultural Consumer
Between 2000-2014, 92 percent of the total population growth in the U.S. came from multicultural consumers, making them the fastest-growing segment of the U.S. population. Numbering 120 million and increasing by 2.3 million per year, multicultural populations will be the prime movers of U.S. growth moving forward. By the year 2055, it is expected there will no longer be a single racial or ethnic majority in the United States.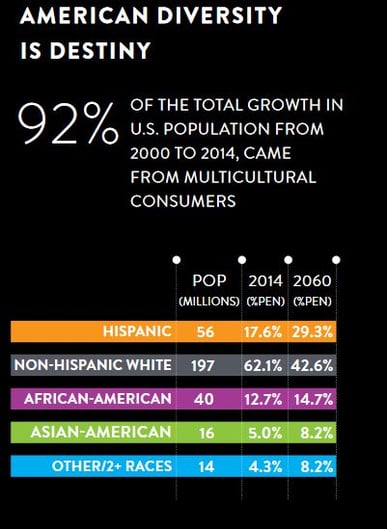 A recent Nielsen report, "The Multicultural Edge," analyzes U.S. Census-based data. It shows that by 2030, nearly all of the nation's population growth will come from multicultural individuals.
As we alluded to above, the compounded effect of the relative youth and longer life expectancy translates into extended effective years of buying power for Asians (52.3 years) and Hispanics (56.5 years) compared to non-Hispanic whites (36.7 years).
According to Nielsen, Hispanics will experience the most population growth among multicultural consumers, growing from 17 percent of the total population in 2013 to a projected 29 percent by 2060. Meanwhile, Asian-Americans will be responsible for 15 percent of total growth by 2020 and increase to 19 percent of the total population.
The most significant factor for U.S. marketers is this one: According to the Selig Center for Economic Growth, U.S. multicultural buying power is growing at an exponential rate compared to total U.S. consumers, increasing from $661 billion in 1990 to $3.4 trillion in 2014. This represents a percentage increase of 415 percent, which more than doubled the total U.S. buying power increase of 204 percent.

The Importance of Language in Reaching Multicultural Consumers
Consumers from different cultures operate from different points of view. How can U.S. marketers bridge the gap in perspectives to reach them authentically? One answer is language.
While many of the multicultural consumers of the future will be bilingual or English-dominant, that doesn't mean that retailers and marketers will be able to get away with focusing solely on English. This is because one in five Americans speaks a language other than English at home.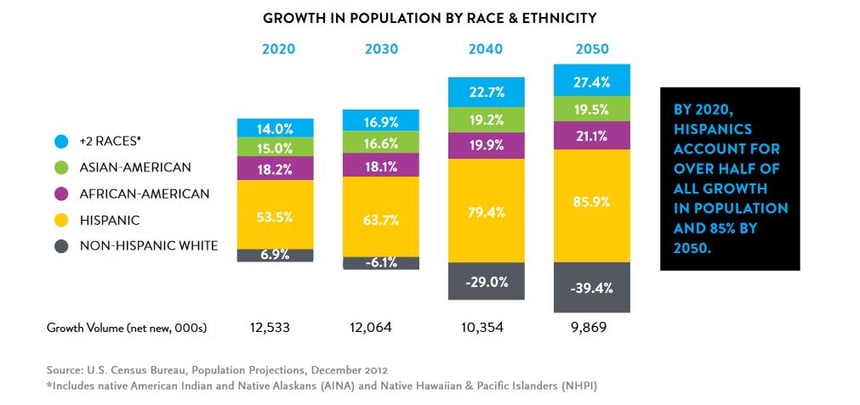 Consider the media habits and preferences of today's consumers. Among Latinos who use social networking, 40 percent do so partly or entirely in Spanish, and Hispanic Millennials favor brands that connect with them through their culture. And about half of Asian-Americans watch television in both English and an Asian language.
Meanwhile, the limited-English-proficient (LEP) population in the U.S. grew 80 percent between 1990 and 2013, from nearly 14 million to 25 million. (LEPs are those individuals who speak English "less than very well.") Almost 9 percent of the total U.S. population is considered limited English proficient today. These audiences consume goods just as their English-proficient peers do.
"Our research has shown that Hispanic consumers tend to jump on trends early," said Thomas New man, president of Interactive One, a leading digital-media company. "Recent examples include early adoption of social networking and early adoption and higher usage of smartphones.
Examples of Multicultural Campaigns
The process of developing a marketing campaign to reach multicultural consumers follows the same steps and principles as any other. Businesses have to know and understand their potential customers – their tastes, habits, needs and values – and then put their brands out there in a place where they'll see it. The only differences are that they need to speak the consumer's language and incorporate cultural considerations.
Marketing campaigns by major brands provide some great examples of how to use language and cultural awareness to attract new customers.
Target
To reach Hispanic consumers, Target aired four 30-second commercials during the 2016 Billboard Latin Music Awards as part of a campaign called "Lúcete A Tu Manera," which means "Show off your way." The ads highlighted Target's personal style offerings and featured notable Latinas. Target also included a social media component, creating a commercial compiled from videos shoppers recorded of themselves wearing Target merchandise and lip-synching to the song "Yo Soy."
Subaru
Subaru has had success marketing to Asian-Americans. An ad campaign for the Subaru Legacy called "Sweet Tomorrow," produced in Mandarin, Cantonese and English, included a commercial showing a young Chinese-American couple preparing for the birth of a child. The campaign also featured print and online ads in key Asian-American markets, such as San Francisco and Los Angeles.
Retailers of any size can take lessons from these examples of using language services to create unique content to speak to a particular audience and then delivering that content through the appropriate print, television, radio, online and social media channels.
Other Ways to Attract Multicultural Consumers
These aren't the only ways retailers can attract new customers with language services. Here are a few other ways to engage:
Create loyalty programs or host VIP events for particular language communities
Monitor social media in your target consumer's language to see what people are saying about your brand or your sector
Show an understanding of consumers' culture by crafting marketing campaigns for holidays like Three Kings' Day, Lunar New Year or Eid (a major shopping and gift-giving occasion for Muslims of all cultural backgrounds)
LanguageLine Can Help
Using language service in retail is a competitive advantage now and for the future. Learn more about how LanguageLine can help your business leverage language to its full potential. We provide interpreting services via phone, video, and face-to-face, as well as translation and localization for a variety of media and marketing campaigns. LanguageLine also conducts language proficiency testing and training for bilingual staff and candidates for hire.