January 29, 2020
by Suzy duMont-Perez
How Are CMS Call Center Quality Ratings Calculated for Medicare Plans?

The Medicare population is growing more diverse by the day. In fact, over 65 million U.S. residents speak a language other than English at home. Approximately 15 percent of this audience is 65 or older. The size of this audience will only increase, as immigration is expected to account for nearly 90 percent of population growth in the U.S. over the next several decades.
To ensure Medicare Advantage Plans (Part C) and Medicare Prescription Drug Benefit Plans (Part D) are enabling effective communication for all seniors, the Centers for Medicare and Medicaid Services (CMS) monitors the call-centers of Medicare plans each year from February to June.
Many plans ask, "How are CMS Quality Ratings calculated? On what criteria are the ratings based?"
DOWNLOAD: CMS Call Center Monitoring Study 2020 Edition
CMS Quality Ratings
CMS rates Medicare plans on a 1 to 5 star system where 1 indicates poor performance and 5 excellent performance. The Star Rating System was created by CMS to measure the quality of the plans and assist seniors in choosing the most appropriate plan. According to Healthcare Finance News, the Medicare Part C and Part D Star Ratings for 2020 showed more plans rated 4 stars or higher than 2019. With approximately 1,200 additional Medicare Advantage plans operating in 2020 than two years ago, there is increased pressure on plans to provide optimal service and quality to attract the growing Medicare eligible population.
The Affordable Care Act mandated that Quality Bonus Payments (QBPs) be made to plans earning 4 or 5 stars. QBPs are incentive payments made by CMS to pay for extra benefits which help plans attract new members and increase revenue. The star assignments are based on a formula examining a series of indicators to measure a plan's quality. One of these indicators is the Accuracy and Accessibility Study.
CMS Star Rating Calculations
The CMS weighting system for the Star Rating measures is complex. It examines measures across these five aspects of the patient journey:
Outcomes - improvements in a beneficiary's health
Intermediate outcomes - reflect actions taken to assist in improving a beneficiary's health status, such as controlling blood pressure
Patient experience - beneficiaries' perspectives of the care they received
Access - processes and issues that could create barriers to receiving care, including interpreter accessibility
Process - services provided to assist in maintaining, monitoring, or improving health status
Process measures are weighted at the lowest level while improvements in a beneficiary's health are given the highest weighting. While the access measure (which includes interpreter accessibility) isn't the highest weighted measure, it remains an important factor and contributes to the overall score.
To learn more about the study, we invite you to download our new ebook, CMS Call Center Monitoring Study 2020 Edition.
LanguageLine can help
LanguageLine Solutions is the only language-services provider that actively works to ensure that your plan earns a five-star rating.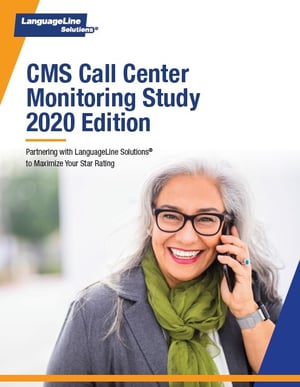 LanguageLine has ongoing contact with CMS, working closely with the Centers for Medicare and Medicaid Services throughout the year to stay on top of changes in the process, such as languages to be tested, CMS scoring changes, and auditing issues.
Meanwhile, our Workforce Management Team ensures appropriate interpreter staffing levels for CMS-targeted languages during the test period.
We also offer real-time process improvement, working with clients as quickly as possible to identify issues and escalate resolutions to ensure ongoing success.
Please contact us today to learn more about how LanguageLine can assist your plan during this period.