May 1, 2017
by Scott Brown
Global Love Day: 14 Unique Ways Love is Celebrated Around the World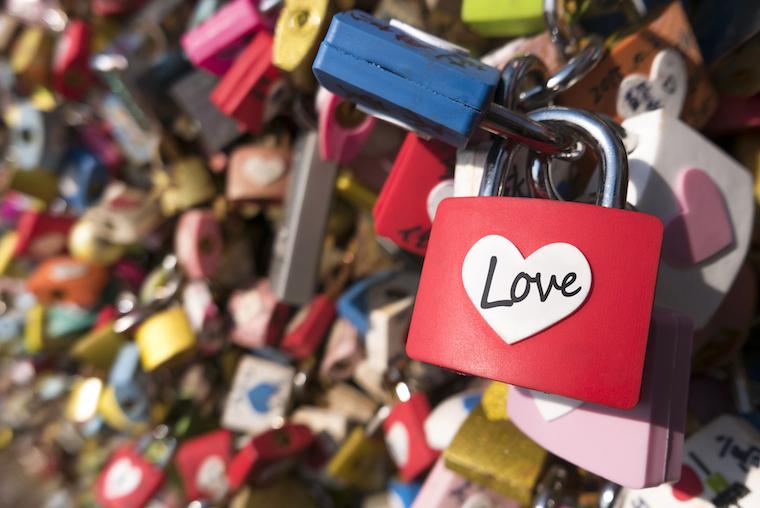 The language of love is universal. And in honor of Global Love Day, we're taking a moment to commemorate love in its many forms.
Since 2004, more than 150 countries have joined together to celebrate unconditional love each year on May 1. Here are 14 unique ways love is celebrated around the world.
1. South Korea
The 14th of every month is a special occasion in South Korea. Jan. 14 is Diary Day or Candle Day. Feb. 14 is also a special day similar to Valentine's Day, but it's celebrated with a twist: Women give chocolate and other gifts to men instead of the other way around.
2. Mexico and South America
Mexico and several South American countries celebrate "Dia del Amor y La Amistad," or "Day of Love and Friendship." The holiday originated in Colombia as a way to boost the economy during a time when retail sales were sluggish, according to Fortune. (But hey, it's the thought that counts.)
3. Denmark
The Danes like their romance with a side of humor. Instead of sending love letters, they write witty poems called "gaekkebrev," which means "joking letter." According to the custom, the sender signs the letter with dots instead of a name. If the recipient correctly guesses the sender, she receives an egg at Easter.
4. Sweden
Sweden celebrates love with traditions similar to those in America. Lovers exchange roses, jelly hearts, and pastries.
5. Italy
The "Lovers in Camogli" festival is just one of many ways Italians celebrate love. The highlight of the event is a plate-painting competition where people vote on the most beautiful plates, which are then displayed along the seafront.
6. Finland
Each year, the village of Sonkarjavi hosts the Wife-Carrying Championships, where participants sling their wives or partners over their shoulders and compete in a series of events. The winner receives his partner's weight in beer.
7. Fiji
Sometimes it's difficult to find the perfect wedding gift, but not in Fiji. There, it's common practice for the groom-to-be to present a whale's tooth to his potential father-in-law when asking for his bride's hand in marriage, according to Lonely Planet.
8. France
One more recent tradition in France involved lovers placing padlocks on the famed Pont des Arts bridge that connects the Louvre and the Institut de France in Paris, then throwing the key into the Seine river below. Officials removed the locks in 2015 after more than a million of them had accumulated, putting a strain on the infrastructure and, according to the mayor, ruining the aesthetics of the bridge. The locks may be gone, but the sentiment remains.
9. China
China celebrates the Qixi Festival, a tradition that dates back more than 2,000 years and originated from an ancient folk tale called "The Weaver Girl and the Cowherd." The weaver girl is a fairy who falls for a mortal. Her mother separates them, but they are allowed to reunite once a year on the seventh day of the seventh month. To celebrate the day, couples participate in kissing contests.
10. Israel
Israel's holiday for love, Tu B'Av, dates back to Biblical times, when women wore white and danced in the vineyards at the start of the grape harvest season hoping to attract a mate.
11. Wales
To propose marriage, Welsh men traditionally gave the woman they love a carved wooden spoon as a symbol that he would always provide for her. If she accepted his proposal, she wore the spoon around her neck. The lovespoons have become more of a wedding or anniversary gift today, and you can still buy them at a number of gift shops in Wales.
12. India
Weddings in India have many unique customs. One of the most important is the saptapadi, or the seven steps the bride and groom take together around a holy fire to symbolize the seven vows they make to each other. The groom then applies a red powder to the bride's forehead to symbolize her status as a married woman.
13. Papua New Guinea
In some parts of Papua New Guinea, tribesmen paint their bodies and put on colorful feathered costumes to woo the women they love. Known as "sing-sings," these performances mimic the mating rituals of the birds of paradise, according to Lonely Planet.
14. Slovenia
There's a Slovenian saying that birds get married on March 12, a day that traditionally marked the start of spring and celebrated love. On this day, known as Gregorjevo, or St. Gregory's Day, people give heart-shaped honey cookies to their loved ones.
Love Has Many Languages
As these fascinating customs show, the language of love is universal. On May 1, people will host celebrations around the world to promote love, unity, and peace, including a special Drum For Change event hosted worldwide and a celebration of love in Malaysia dedicated to children with autism.
While our traditions vary from one country to another, we share common human experiences that connect us on a deeper level. And the greatest of these is love.