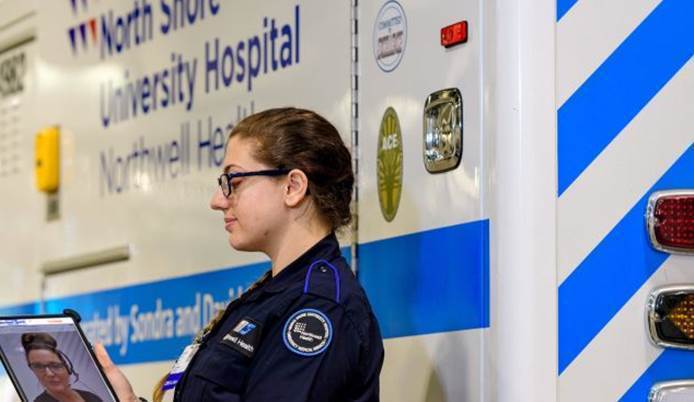 Northwell Health announced last week that it has started to deploy video interpreting throughout its fleet of ambulances, which will help first responders communicate in real time with non-English speakers and the Deaf and Hard of Hearing.
Northwell Health is an integrated network that is New York State's largest healthcare provider.
As first reported by Newsday, Northwell's Center for Emergency Services will have the first ambulances in the state to use video interpreting. The technology will be deployed throughout the health network's fleet of more than 80 ambulances by the end of the year.
Known as LanguageLine InSight Video Interpreting, the app-based technology provides one-touch, real-time connections to live, professional interpreters in 36 languages, including American Sign Language. InSight also provides the same on-demand access to audio-only interpreters in more than 240 languages. InSight operates on app-enabled iPads, smartphones, and desktop computers. Connections to an interpreter are made in less than 30 seconds.
According to Newsday, a third of Northwell's ambulance fleet operates in diverse communities within the boroughs of Manhattan, Queens, and Staten Island.
"Having the ability to quickly access a video (interpreter) while treating patients who are having difficulty communicating with us, whether in their home or on the sidewalk, will only expedite and improve the delivery of my care to them," Sinaka Javorovac, a Northwell paramedic, said in a statement to Newsday.
Please click here to read the full Newsday article.
Photo credit: Lee Weissman/Northwell Health
LanguageLine Can Help
We believe that being understood is empowering. For nearly four decades, LanguageLine has worked with healthcare organizations to overcome language and cultural barriers.
LanguageLine InSight Video Interpreting provides one-touch, on-demand video interpretation in 36 spoken languages, including American Sign Language. It also delivers audio-only interpretation in more than 240 languages. Within seconds, InSight users access our team of more than 9,000 professional interpreters. InSight is available on tablets, smartphones, and laptop computers.
Please contact us so that we can learn more about you and the particular challenge you are facing.