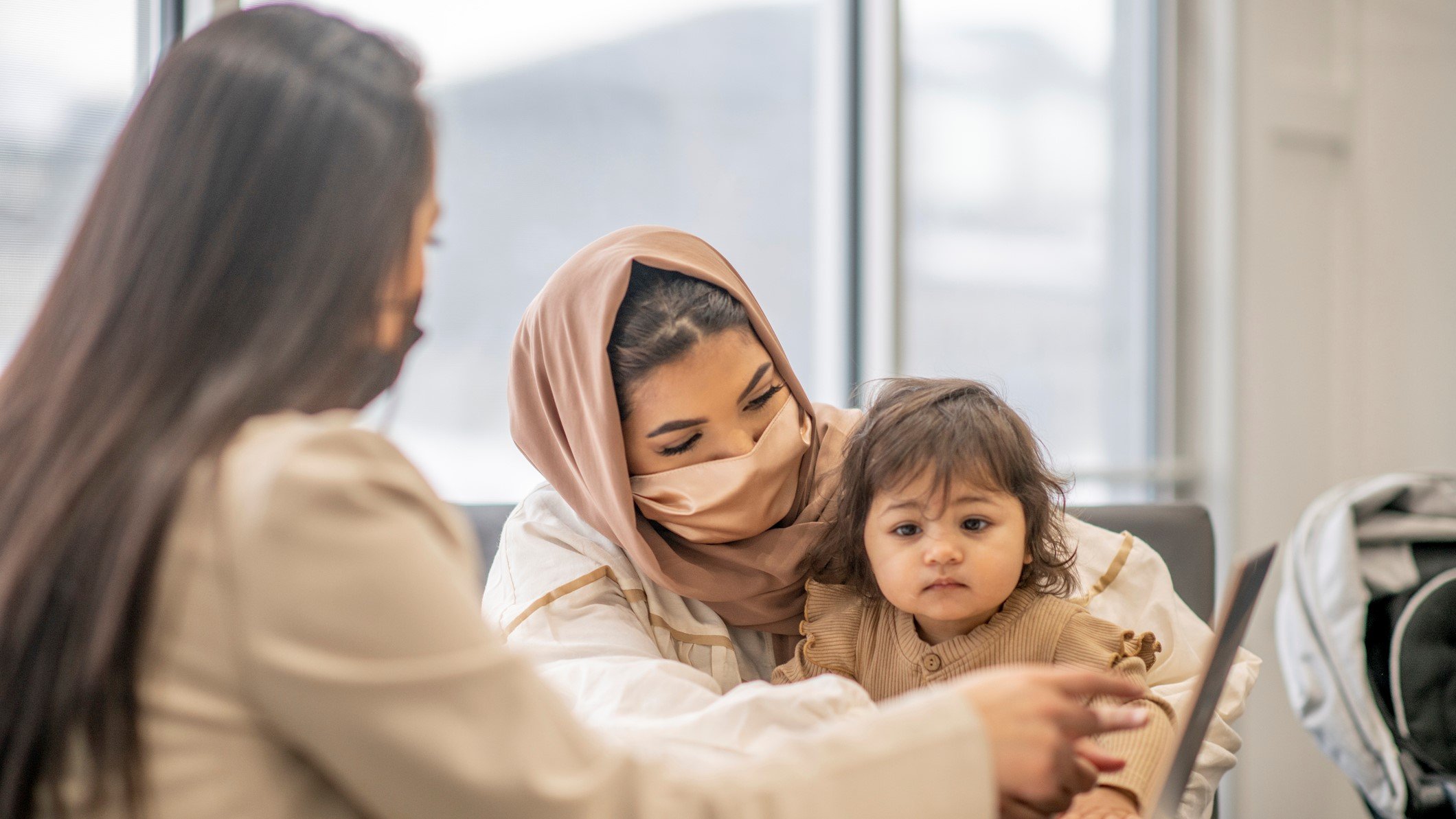 Last month, a refugee patient stood in the cold outside of a Partnership Health Center clinic in Missoula, MT, and waited.
With little understanding of English and no experience with the United States healthcare system, he was unsure what to do once he got inside. It is a situation fellow refugee Yu Yu Htwe knows well.
Htwe (pronounced huh-twee) is originally from Myanmar. She understands what it's like for someone who has immigrated to the United States to navigate the sometimes-complicated world of healthcare and social services. Now, as a community health worker at Partnership Health Center, Htwe draws on her lived experience to help others traverse challenges like the ones she faced when she came to America.
Fortunately, PHC has on-demand access to LanguageLine Solutions' professional interpretation. The service is available at the touch of a button in more than 240 languages, with no appointment necessary. LanguageLine's interpretation service helps limited-English speakers communicate seamlessly with their caregivers.
"I met the patient at the PHC clinic and helped him use LanguageLine for his appointment," she said. "I was able to help him get through his appointment and get his medications. Getting the interpreter on the line was a very easy process."
CASE STUDY: Hospital Uses Phone Interpreting to Assist LEP Patients
LanguageLine currently partners with 19 of the top 20 hospitals in the U.S. and is compatible with most leading telehealth and electronic health record (EHR) systems. LanguageLine also has extensive experience working with community health organizations like PHC.
Htwe is one of several community health workers in Missoula's new community health worker program, which PHC recently launched with its partner organizations, All Nations Health Center and the Missoula City-County Health Department. This evidence-based program is made possible thanks to a $1.8 million grant that Partnership Health Center received from the Centers for Disease Control and Prevention in 2021.
Helping vulnerable communities
The primary goal of the program is to help people from vulnerable communities, including the unhoused, low-income, refugee and indigenous communities, to better access and navigate health care services, social services, and recover from the impacts of the COVID-19 pandemic.
Community health workers are frontline public health workers who are trusted members of the communities they work with. Their shared life experiences afford them a level of understanding that allows them to work alongside patients in a peer-like capacity to identify goals, connect them with services, and empower them to meet their own needs.
Becca Goe, director of innovations at PHC, said community health workers are uniquely situated to improve health outcomes. Unlike traditional health care models in which patients must go to a clinic or hospital to receive care or consultation, community health workers go out into the community to engage with patients, facilitate access to care, and help address social needs that may be barriers to health and wellbeing.
LEARN MORE: How Top Cancer Centers Use Video Remote Interpreting
A central component of these services is providing language access, both via on-demand interpretation as well as the translation of written materials, including discharge papers and medication instructions.
"People spend 99.9 percent of their life outside the doctor's office," Goe said. "Community health workers meet people where they are, and they understand the difficulties these patients face."
More time to help
Thomas McClure is the director of health promotion at All Nations Health Center, where he helps oversee the community health worker program. McClure said that unlike health workers in a clinical setting, where capacity constraints often require time-limited appointments, community health workers can spend much more time investigating the social and environmental causes of medical issues. McClure describes that extra time as priceless in terms of what community health workers can accomplish with patients who need help navigating the healthcare system.
"Community health workers are, in a way, investigators," he said. "We're searching for the root cause of the problem rather than just healing the symptoms."
Community health workers receive a minimum of 52 hours of annual training to enhance their skills for helping address many challenges that impact their clients' health and wellbeing. These challenges, commonly known as social determinants of health, include access to affordable housing, healthy food, high-quality childcare and more.
Numerous success stories
Community health worker programs have been shown to improve health outcomes in communities all over the world, helping address everything from the HIV epidemic and tuberculosis in Africa to the case management of acute childhood illness in Afghanistan. In the United States, community health workers have helped communities cope with health problems like diabetes, asthma and cancer since the mid-80s. They can help people obtain immunizations and vaccines, help mothers and families with maternal and child health, provide health education and connect people to a wide variety of important services.
At the Missoula City County Health Department, community health workers have had success working with multiple agencies to help secure housing for a client at risk of losing their home.
Programs like the one at PHC, All Nations Health Center and MCCHD have saved communities significant amounts of money through preventative care, which decreases the need for costly emergency interventions down the road. According to MHP Salud, an organization that helps local organizations develop CHW programs, the cost savings realized by community health worker programs can double what the program costs.
LanguageLine can help
LanguageLine is proud to work with community organizations like PHC to help facilitate access to health care and social services. We are accustomed to partnering with these groups to help navigate challenges and provide 360 degrees of language access to the communities they serve.
Interested? We invite you to visit our website to schedule a conversation about the opportunities that may lie within your organization.