May 21, 2015
by David Bethea
Are Retailers Missing Opportunities With Multicultural Customers?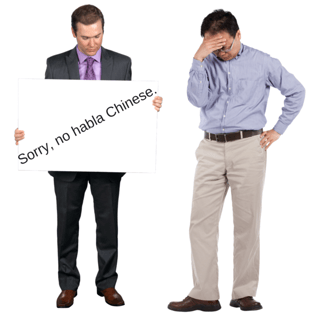 Bo is a Chinese American in his mid-30s. He lives in Chicago. His wife and young son are home for the day and he's decided to run out to handle a few errands at some of the local stores. Bo's English is limited, but he's fluent in Mandarin.
Now, while Bo is making his list and checking it twice, let's take a broader look at the situation that's about to unfold.
Here are some facts that will put Bo's afternoon of errands into perspective:
Over 60 million American consumers (or about 1 in 5) speak a language other than English.
While Spanish is the most common non-English language spoken in the United States, it's far from the only one. Census figures tally a total of 381 languages spoken in the U.S.
Retailers – especially in urban areas – are becoming increasingly proactive in offering onsite Spanish interpretation via staff members. But it's rare to find other languages offered.
And here are a few facts about Bo and where he lives that bear consideration as well:
As part of the Asian American consumer market, Bo's purchases make up a portion of over $962 billion in annual revenue for U.S. retailers.
Like most Asian Americans, Bo is an immigrant who's brought over preferences and habits from China. He also has money to spend, with an income of $63,400 (as opposed to the average American household income of $49,600.)
In Chicago, 35.7% of the population over 5 years old speaks a language other than English, with Mandarin and Cantonese Chinese making up one of the top five languages.
So, as we'll see, Bo is heading out into Chicagoland with money to spend and a list of items he intends to purchase. How do you think he'll fare? Will he accomplish what he's set out to do? Will he be happy when it's over?
Or will the fact that he doesn't speak English fluently get in the way?
Bo's First Stop
The first thing Bo needs to do is pick out a new outfit for his brother-in-law's wedding coming up next month. He heads to a high-end department store (because high-end Western brand names have always been a sign of quality, especially back in China,) and picks out a nice shirt and shoes.
He tries to get a suit, but runs into some trouble when the attendant helping him needs to arrange tailoring. Unfortunately, no one at the store speaks Mandarin and Bo's English isn't extensive enough to get through the whole conversation, so he buys the shirt and shoes but leaves the suit. At some point in the next few weeks, he'll need to either make a return trip with his sister who speaks English more fluently, or he'll need to buy a suit somewhere else.
He heads out a little frustrated, but otherwise ok.
Bo's Second Stop
Stopping next at the local mobile phone store, Bo heads inside hoping to upgrade his smartphone.
This is a fairly straightforward process because Bo knows exactly what he wants and he's memorized the names and specs. Like many Asian Americans, Bo spends a lot of time on his mobile devices and he's very tech savvy. In fact, in comparison to other ethnicities, Asian Americans have the highest rates of mobile video download, email usage, picture downloads, and mobile internet usage.
Ordering the upgraded phone is no problem. But, when it comes to the intricacies of the new data plan that comes with his new phone, and how exactly it's going to affect his monthly bill, the store falls seriously short. The representative is trying to help, but speaking slower and louder has no effect, except to make Bo more frustrated. Finally, he uses some colorful Mandarin metaphors and walks out.
Bo's pretty upset now. This is going to cost him wasted time down the road, and possibly more money than he needed to spend if he'd just been able to communicate with the store attendant.
Bo's Third Stop
The last stop on Bo's list is the local home improvement store where the energy efficient refrigerator his wife ordered online has come in and he needs to arrange for delivery to their house.
Having just left the mobile phone store a few minutes before, Bo's in a bad mood and briefly considers just going home, but his wife will be disappointed, so he soldiers on. Getting inside, he locates the appliance center and hands the attendant the email confirmation his wife printed out at home. After pulling up the necessary information online, the attendant starts rattling off specifics, but it only takes a moment to realize Bo doesn't speak English well.
Here, things suddenly change for the better.
The attendant asks for a moment to make a phone call, then hands Bo one receiver while using a second one himself. On the other end of the line, a courteous voice speaks up in perfect Mandarin, welcoming Bo to the store and asking him if he would like to arrange delivery of his new refrigerator.
You should see Bo's face.
What happened here?
While Bo is making his way home, let's recap what happened on his trip.
In the clothing store, Bo wanted – actually needed – a new outfit, including a full suit. He was ready to spend several hundred dollars to get it. But, because of the language barrier, he spent $160 on a shirt and shoes, and left. Maybe he'll return, maybe he won't.
At the phone shop, he knew exactly what he wanted and he made the initial purchase. But, once again because of the language barrier, he ended up very frustrated. With cell carriers so fiercely competitive, the chances of Bo dropping his current carrier and trying someone new are pretty high today.
Finally, at the home improvement store, he probably expected the worst. But he was pleasantly surprised when the attendant was able to bring a telephone interpreter into the conversation and work out the entire transaction and delivery arrangements quickly and completely to Bo's satisfaction.
Bo Goes Home
As he pulls into his driveway, Bo sees his brother-in-law and his brother-in-law's fiancé have stopped by for the evening. As they exchange greetings and Bo's wife hands him a cup of tea, the conversation naturally moves to what he's been doing for the afternoon.
Hardly able to slow down, Bo excitedly gives a glowing report of his experience at the home improvement store. He brings a smile to his wife's face, surprising her by saying he's going to bring her back there this weekend to pick out new countertops for the kitchen.
How many times has "Bo" stopped by your store in the last year? What kind of experience did he have? Did he leave frustrated like at the phone store? Did he spend less than he could have, like at the clothing store? Or did he have a great experience, like at the home improvement store, and does he plan to spend more with you in the future?
Today, retailers are "winging it" without a solid language access plan in place. Are they leaving money on the table because they can't communicate effectively with their customers? Although Spanish is the most common non-English language in the U.S., it's certainly not the only one. In fact, non-Spanish LEP consumers are making up a larger part of the buying public than ever before, and they have money to spend.
If you need help establishing a language access program so you can be sure to serve all your LEP customers well, contact LanguageLine Solutions. We'll make that happen in over 200 languages. Never let a language barrier and the opportunity to serve your customers come between you again.