March 4, 2019
by Suzanne Franks
America's Failure to Fund Language Education Is Creating a Crisis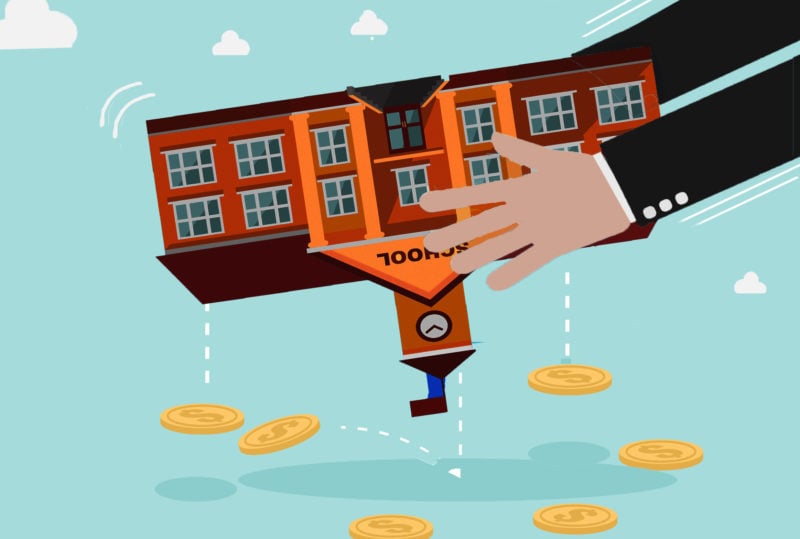 If we care about national security, language education is a "need to have," not a "nice to have."
It was recently reported that colleges in the United States shuttered a staggering 651 language programs in a recent three-year period, while only 7 percent of U.S. college students are currently enrolled in a language course. This news did not create the shockwaves it should have, as America's failure to invest in language learning has led to a crisis that could have implications for generations to come.
The magnitude of this predicament was apparent as we gathered in Washington, D.C., several weeks ago for Language Advocacy Day, an annual event on Capitol Hill produced by the Joint National Committee for Languages (JNCL) that is aimed at garnering more federal support for language education. Talking with lawmakers, educators, and other language professionals, it was impossible to miss the fact that absent a much greater investment in language education, America's national security and ability to compete in a global marketplace will be put at great risk. Simply put: to remain competitive and safe, the U.S. needs more world-language learners – and accomplishing this will require funding.
Language Advocacy Day attendees learned that it took several years for the full impact of the 2008 recession to be felt by foreign-language programs. Higher education lost just one foreign-language program from 2009 to 2013. From 2013 to 2016, it lost 651.
"I'm really concerned that in 2020 (when the study is conducted again), that number is going to be higher," said Dennis Looney, director of programs at the Modern Language Association.
What is driving the problem?
Universities want to cut costs and focus on "relevant" fields of study, and common thinking is that engineering and science are these colleges' moneymakers. These departments are brimming with government dollars and donations from the tech sector. Meanwhile, language education continues to lose out when budget priorities are set, including cuts to Title VI grants and the Foreign Language Assistance Program.
An absence of funding is only part of the issue, however. Just as large a problem is a lack of demand. Across the U.S., only one in five students from kindergarten through high school is taught a foreign language. Fewer than one third of all states require the learning of a world language at all in K-12 – and quite often, the education they do get is limited to two years of language study in high school.
U.S. students have much less access to foreign language instruction than students in other economically developed countries, meaning that Americans are thus much less likely to be bi- or multilingual. Four out of five American students do not have the opportunity to learn a second language. Those who do not have the chance to learn a language prior to college are unlikely to ask for this education once they get there.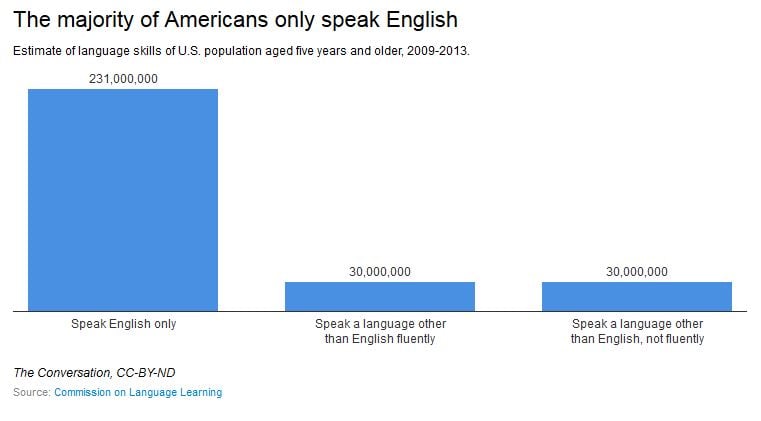 Deepening the issue even further is the fact that U.S. students may be learning languages that do not synchronize with the tides of globalization. As far back as 2010, Education Secretary Arne Duncan said that 95 percent of all language enrollments in U.S. colleges were in European languages. In 2013, almost 200,000 college students were studying French, while just 64 were studying Bengali. Across the globe, however, 193 million people speak Bengali while just 75 million speak French.
Massive Implications
Over 65 million U.S. residents – or 21 percent of the population over the age of five – speak a language other than English at home. We tend to rationalize our dearth of second-language learners by saying "the world is learning English, anyway." But billions of people globally do not speak English – and the same can be said of 19 million Americans.
Why is the funding of language programs so vital? One of the more prominent reasons is national security.
The U.S. faces serious security threats from the likes of Russia, North Korea, and the Islamic State. We need to be able to understand these threats, while also enlisting the assistance of our non-English-speaking allies. The need to speak the language of our friends and foes alike is very real.
National security also involves economic strength. To thrive in a global marketplace and reduce trade deficits, U.S. businesses have to be sensitive to their customers' languages and cultures.
The final reason is the need for a strong pipeline of linguists at home.
What LanguageLine Is Seeing
At LanguageLine, we are seeing demand increase across all sectors. Last year our linguists handled 36 million interactions in more than 240 languages – that's a new interaction every second of every day. We have responded to this swelling need for our services by nearly doubling the size of our interpreter workforce to nearly 10,000 over the course of the past six years.
Most of the calls we handle connect non-English-speaking U.S. residents with the health care, government services, or business offerings they need to participate in our society.
A broad understanding of language allows for the free movement of people, information, and ideas, while building up mutual understanding and acceptance of diversity. Above all else, this is why the funding of language education programs is so vital.
As one Language Advocacy Day speaker said, "(Languages) are not a nice-to-have. Languages are a need-to-have."
We encourage you to visit the JNCL website to learn more about what you can do to advance the cause of funding for language education programs. Linguists may also visit our careers page to learn more about LanguageLine job opportunities.