September 27, 2017
by The LanguageLine Solutions Team
Multicultural Consumer Report: Latina Buying Power Is On The Rise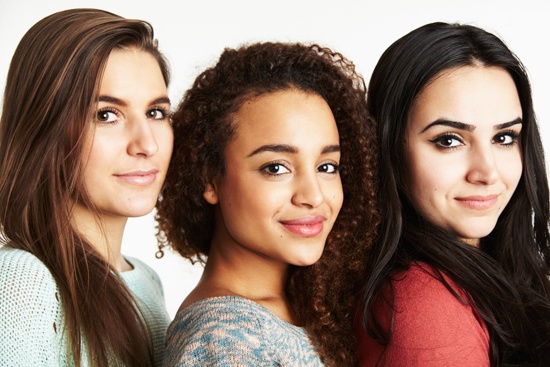 In 2016, U.S. Hispanic buying power was bigger than the gross domestic product of Mexico.
More than one in six U.S. residents claims Hispanic origin, which speaks to this exponential growth. The U.S. Hispanic population is also projected to account for 65 percent of the growth of the overall U.S. population between now and 2060. According to a new Nielsen report, the Hispanic consumer group is "making economic gains, influencing mainstream consumption and being credited for advancements in digital."
As it turns out, Hispanic women are leading the way when it comes to these changes.
The Nielsen report, titled "Latina 2.0: Fiscally Conscious, Culturally Influential & Familia Forward," notes the influence of the Latina population (which it calls the "Latina Ascent") in the U.S. and explores their power in their numbers.
The study makes clear that marketers should have this audience on their radars. It also suggests that marketers who seek to reach Latinas pay attention to the degree to which this audience is digitally connected.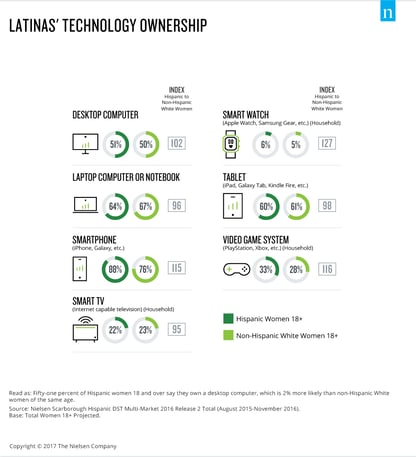 Here are some particularly interesting points that emerged from the report:
74 percent of Latinas over the age of five speak a language other than English at home, despite 34 percent of Latinas being foreign born.
40 percent of Hispanic women agree that people often seek their advice before making a purchase.
88 percent of Latinas say they own a smartphone, making them 15 percent more likely than non-Hispanic white women to own such a device.
On average, Latinas spend 22 hours a week watching videos, using apps, or using the Internet on their phones.
Latinas are early adopters of tech gadgets, as they are more likely than non-Hispanic white women to own smart watches.
51 percent of Hispanic women say they own a desktop computer, which is 2 percent more likely than non-Hispanic white women.
19 percent of Latinas say they use social media to show support for their favorite company or brand, compared with 16 percent of non-Hispanic white women. Nineteen percent also say they use social media as an important source for reviewing or rating a product or service, compared with 17 percent of non-Hispanic white women.
During a 30-day period, Latinas used Snapchat at a rate 96 percent higher than non-Hispanic white women, Instagram at a rate 64 percent higher, Spotify at a rate 59 percent higher, and Pandora at a rate 58 percent higher.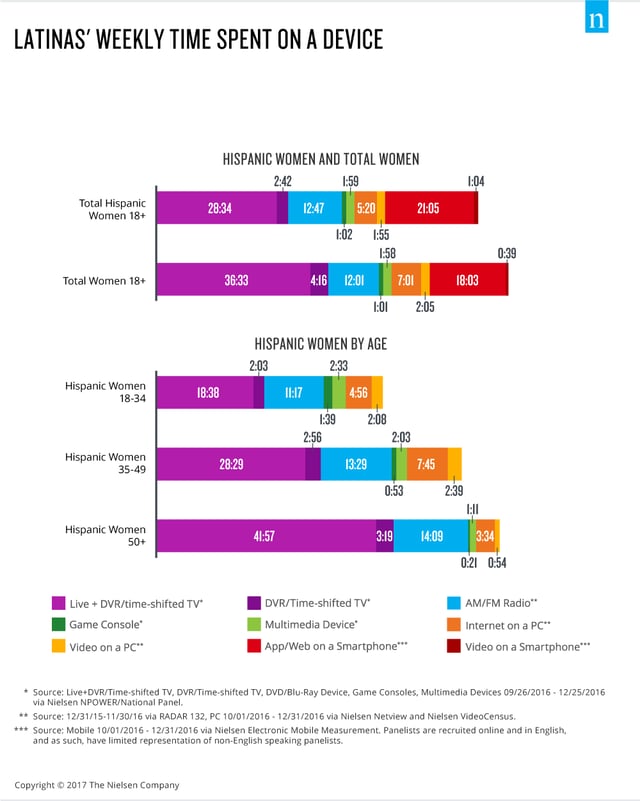 Language Implications
According to a separate report, the U.S. Hispanic population increased its buying power from $495 billion in 2000 to $1.4 trillion in 2016. That figure now accounts for 10 percent of total U.S. buying power. It also means that the U.S. Hispanic market is larger than the GDP of Mexico and bigger than the economies of all but 14 countries in the world.
There is a clear opportunity for brands to engage this empowered the Latina segment of this population through digital channels, as this is an audience that welcomes this sort of interaction.
Among Hispanics, 55 percent are bilingual and 19 percent are Spanish dominant. This means Spanish-language services and advertising have the potential to reach three-quarters of this large and growing market.
Even among bilingual Hispanics, some may be more comfortable with Spanish or more attracted to brands that use the language. Hispanic Millennials say they choose brands and companies that appeal to them through their culture. In fact, 71 percent of all Millennials say they appreciate the influence of other cultures on the American way of life.
Many Multicultural Consumers Want to Shop in their Own Language
As these numbers show, there are significant opportunities to market to Latina consumers in their native language and continue to build relationships with them by offering language services not only on websites and marketing materials, but also in customer service interactions.
If your company wants to forge relationships with this group and influence multicultural buying habits, language access offers a clear competitive advantage.