3 Reasons to Keep a Language Interpreter in Your Pocket When Traveling
Posted by Suzanne Franks on March 10, 2016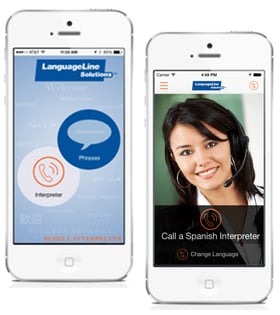 Traveling to another country can be fun, exciting, and a relaxing experience. You prepare for your trip by planning ahead and making sure you have all the necessary items you'll need, including passports and comfortable shoes. You learn about your destination so can fully enjoy the trip and see all the sights. And, you learn a few key words and phrases in the native language to order food, find the restrooms, and get directions.
You always wonder if you have forgotten anything. But have you thought about taking an interpreter with you? It's easy to put one in your pocket.
An Interpreter at Your Side
You can get by with a translation app for simple conversations, but what about when you need to explain more and really communicate when incorrect words can have serious or frustrating consequences?
LanguageLine Solutions' popular Personal Interpreter℠ can be with you 24 hours a day every day to help communicate in more than 240 languages on demand, quickly, accurately, and conveniently. Either download the free iPhone app or dial a toll-free number. In seconds, you can have the power of trained interpreters at your side to ensure communication in any situation so you can converse in any language in any country.
Why should you carry Personal Interpreter?
Reason 1: Convenience
Easily access the best on-demand interpreters in the world any time you need them.
An American couple traveled to Costa Rica. Their luggage was lost at the airport.The non-Spanish speaking duo struggled to get assistance in English and panicked thinking they would never see their suitcases again. Their clothing for the trip, sunscreen, maps and all the perfectly planned gear were nowhere to be found.
A woman traveled thousands of miles to finally realize her dream trip to Disneyland. Amid the crowds and excitement she lost track of her husband. Not speaking English, she couldn't find him and didn't know how to ask for help.
A family made reservations at a hotel in Peru, but when they arrived, the hotel was sold out. They needed to make reservations at another hotel but no one spoke English.
A celebrity wanted to locate his wife who was staying at a small hotel in China. Fighting the paparazzi, he had to quickly get his message to the reception clerk who only spoke Mandarin.
What could have been a nightmare for these travelers, ended up becoming a great vacation story when they quickly accessed an interpreter to bridge language barriers.
Reason 2: Dependable and Accurate
Clear, accurate, professional interpretation sessions ensure you communicate correctly to eliminate costly mistakes and risks of miscommunication.
A woman's father was traveling in France when he had a heart attack. She needed to tell the French-speaking doctors his medical history and help her father understand what was happening to him.
A family visiting Germany were trying to find relatives. They met a man they hoped was their cousin; they needed to explain to him their ancestry and wanted to make a connection with their relatives without frightening the older gentleman.
A man fell while traveling in Russia. He needed emergency assistance and surgery. He didn't speak Russian and was in great pain, and unsure about diagnosis, treatment and costs.
A Canadian had an injured relative in Mexico, and required assistance to help arrange a flight for the injured tourist to be flown from the Mexican hospital to Calgary.
An American boy was stung by a bee in Paris. The boy's mother needed to facilitate communication with the family's doctor in the U.S. and the French doctors who were trying to treat her son.
These problems were all solved with an easy call to Personal Interpreter. In situations where you need accurate interpretation that you can depend on, our interpreters are trained, professional and standing by to assist whenever you need them.
Reason 3: Safety
While traveling in Brazil, a woman lost her purse with her ID, keys, and money. Frightened and worried, she needed police assistance.
A worried American family needed to contact, and work with, port officials in Tahiti to locate their son, whose sailboat had been lost at sea.
A family sent their daughter to Europe for graduation. They prepared her for every type of weather, all types of situations, and taught her how to keep safe. They also downloaded the Personal Interpreter app to her cell phone for anextra layer of protection.
Personal Interpreter offers peace-of-mind for travelers who may encounter emergency situations. When you require immediate concerns to be resolved as fast as possible, language shouldn't stop the process of receiving aid.
Trained interpreters are standing by to provide assistance to help in any situation that requires interpretation at home or around the world. Pay by the minute and the service is billed to your credit card. Personal Interpreter is the insurance you need when you or your loved ones are traveling and don't speak the language. It's easy to access, simple to use, and a real lifesaver. Open an account now and start enjoying being multilingual in just seconds.