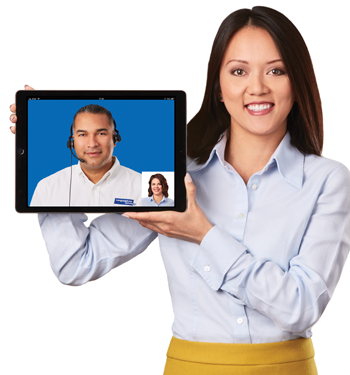 One in five of our neighbors here in the United States speak a language other than English at home. That's more than 61 million people – 25 million of whom say they speak English less than well. Another 28 million Americans are deaf or hard of hearing.
The influence of these diverse audiences is enormous and growing. They are citizens, patients, and consumers. Meeting them in their preferred language builds loyalty, achieves compliance, and increases staff productivity while reducing expenses. The opportunities are clear, but the challenge is that – with hundreds of languages spoken in America today – it is very difficult for any organization to meet this demand.
Video remote interpreting (VRI) is an on-demand platform that provides communication to limited English proficient, deaf, or hard-of-hearing individuals by connecting to a professional interpreter in an offsite location. This is done via camera and microphone on a tablet, smart phone, or desktop, using an Internet or cellular connection. VRI reduces the risk of misunderstanding by capturing body language and facial expressions to read visual cues.
Before implementing VRI, your organization should discuss the needs of your audience and how video will fit into your language access plan. Take the time to have this discussion with your front-line staff and any other key stakeholders. Here are a few questions to prompt discussion:
Read More