Think Locally... Speaking the Right Language
Posted by Greg Holt on November 20, 2015
U.S. Census data released this month provides detailed information about the more than 350 languages spoken at home across the United States by over 60 million people. The national tally demonstrates how immigration from around the globe continues to change the American cultural landscape. The local data identified by "Core-Based Statistical Areas (CBSAs)," provides counts of different language groups on a local level. For organizations with local service areas, this level of detail is a great way to identify potential service gaps and the need for language support.
Local Language Mixes
Comparing regions across the country, it's striking how local language mixes vary. While the leading language in most regions is Spanish, the Honolulu CBSA stands as an exception. There, Spanish ranks fourth, behind speakers of Tagalog, Japanese, and Ilocano. Some CBSAs have concentrations of languages with long histories in the U.S. Others show languages from immigrant groups that are the relative newcomers. This demographic difference may impact the ability of an organization to staff (i.e. attract, hire, train and retain) sufficient bilingual staff to support local needs.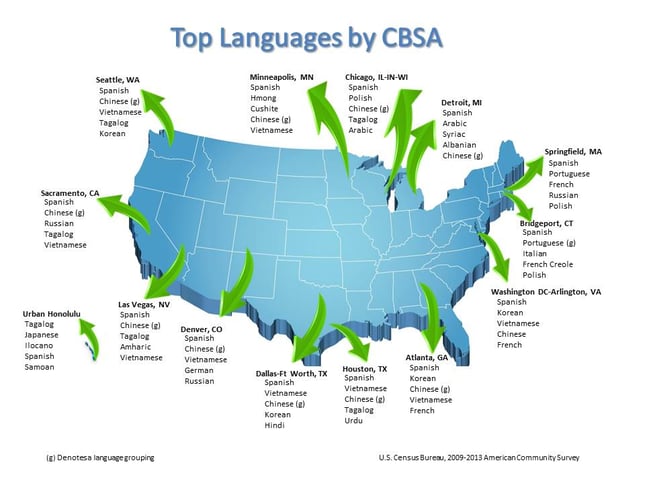 Time to Reassess Language Preparedness?
This data release offers a good opportunity to address any gaps in language coverage using tangible data. Depending on the size and complexity of the limited English proficient (LEP) population an organization serves, it may be time to reassess language access needs overall. Are there resources in place for effective communication in everyday situations as well as emergencies? Is there adequate support for your community's emerging languages? Are they even on the radar?
In-Language Solutions
One solution well suited to efficiently manage inbound calls from LEP callers is LanguageLine Solutions® Direct ResponseSM. Direct Response establishes a toll-free telephone number that LEP clients can call to reach your organization. The organization can advertise the number as part of its marketing and community outreach efforts. When LEP callers dial the Direct Response number, they receive the organization's custom greeting in-language (i.e. Spanish, Mandarin, Somali, etc.) and are paired with a LanguageLine Solutions interpreter. The interpreter greets the caller and places an outbound call to the organization, connecting directly to the designated department. The call is handled in-language with an interpreter already on the line.

Direct Response provides a 24/7/365 total in-language experience for the LEP caller from beginning to end. The in-language aspect reduces caller frustration and hang-ups. The organization using Direct Response gains the efficiency of having the call delivered with the interpreter and LEP caller already on the line, reducing agent talk time and call handling. Additionally, marketing the toll free number to specific language communities improves outreach and helps direct inbound callers to the right department.

Direct Response works equally well for large or small organizations to improve efficiency and the LEP customer experience. Learn more about how LanguageLine Solutions® Direct ResponseSM can help your organization better communicate with 60 million people in the U.S. who need help from a professional interpretor.