By 2055, Asian-Americans Will Be The Nation's Largest Immigrant Group. Is Your Business Ready?
Posted by The LanguageLine Solutions Team on September 25, 2017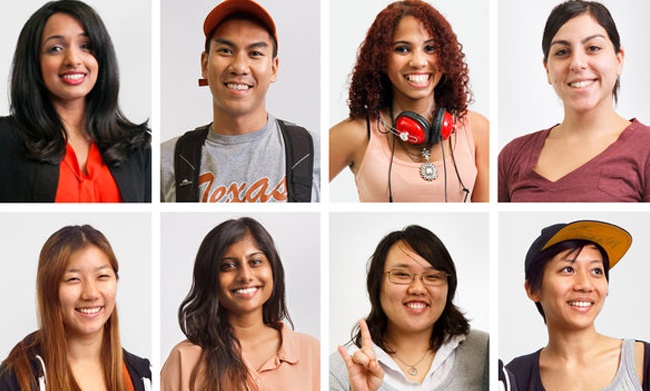 When we say "Asian-American," we are saying a lot. The U.S. Asian population is a diverse one. A record 20 million Asian-Americans trace their roots to more than 20 countries in East and Southeast Asia and the Indian subcontinent. Each has a unique history, culture, language, and other characteristics.
Understanding these subtleties is essential to any business that seeks to increase its audience within the U.S. Asian community, which projects to be the nation's largest immigrant group, surpassing Hispanics by 2055.
Here are five of the most significant findings from a fascinating recent study performed by Pew Research:
1. The English proficiency of U.S. Asians varies greatly across subgroups: Around 70 percent of Asians in the U.S. ages 5 and older spoke English proficiently in 2015; however, this share varies widely across Asian subgroups. A large majority of Japanese (84 percent), Filipino (82 percent), and Indians (80 percent) speak English proficiently. By contrast, groups with large populations of recently arrived immigrants, like Bhutanese (27 percent) and Burmese (28 percent), have significantly lower rates of adoption.

2. A large number of U.S. Asians speak their native languages at home: Around 21 percent of U.S. citizens ages 5 and older speak a language other than English at home. That rate is 68 percent for U.S Asians, while 32 percent speak only English in their homes.
This majority of Asian-Americans that speaks a language other than English at home includes:
86% of Vietnamese-Americans
85% of Pakistani-Americans
78% of Chinese-Americans
78% of Indian-Americans
76% of Korean-Americans
65% of Filipino-Americans
44% of Japanese-Americans
3. A disproportionate number of U.S. Asians live in the West: Nearly half (45 percent) of U.S. Asians live in the Western United States, with about one-third (31 percent) in California. Asians make up 16 percent of the population in California and 10 percent of the population in Nevada and Washington.
4. There is no dominant country of origin within the U.S. Asian population: No single country-of-origin group dominates the U.S. Asian population, but the largest groups are Chinese, Indian, and Filipino. As of 2015, almost 5 million Asian Americans (24 percent) were of Chinese origin. Those originating from India (4 million or 20 percent) and the Philippines (3.9 million or 19 percent) were the next-largest origin groups. Vietnam, Korea, and Japan also exceed a million U.S. residents.
5. Asians will eventually be the nation's largest immigrant group: An immigration wave from Asia that began around 1965 has accounted for one-quarter of all immigrants who have arrived in the U.S. over the last 50 years. The majority of Asian-Americans are immigrants, as 73 percent of adult Asians currently living in America were born in another country.
Asians are projected to become the largest immigrant group in the country, with this population exceeding Hispanics in 2055. In 50 years, Asians are expected to make up 38 percent of all U.S. immigrants, while Hispanics will make up 31 percent of the nation's immigrant population.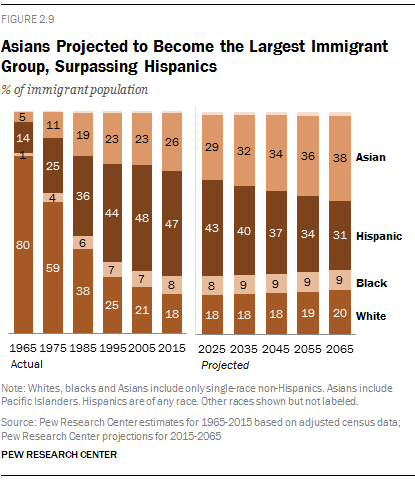 What This Means to the U.S. Economy

Asian-Americans make up six percent of the U.S. population and control six percent of its purchasing power, according to the Selig Center for Economic Growth. They represent today's fastest-growing ethnic consumer group. Since 2000, Asian buying power has grown a whopping 222 percent to $891 billion, which is expected to grow to $1.2 trillion by 2021.
Among U.S. Asians, Indians are the most affluent consumers, with $212 billion to spend
The Significance to Businesses

As we said earlier, more than 70 percent of Asian-Americans are immigrants and they come from more than 40 countries of origin. This means that although Asian-Americans are more educated and affluent than the average American, retailers may still face significant linguistic or cultural barriers to attracting them as customers.
When it comes to influencing Asian Americans, TV and social media play a significant role. Nearly half of Asian Americans watch TV in both English and an Asian language. Among Latinos who use social networking sites, 40 percent do so partly or entirely in Spanish. This means that multicultural buying habits can be shaped through a variety of media, originating in a variety of places, and need to be in the proper language for those venues.
READ: Does Your Call Center Really Need a Language Services Provider?
Companies hoping to influence multicultural buying habits need to be sure they don't view Asian-Americans monolithically. For instance, consider the cultural differences between South Korea, the Philippines, and Pakistan.
Brands need to marshal linguistic and cultural expertise to appeal to this diverse segment of society. In that way they can craft the most appropriate message for consumers delivered in the language that resonates best.
READ: Five Retail Insights on Multicultural Buying Habits
LanguageLine Can Help

As these numbers show, there are significant opportunities to market to these consumers in their own languages and continue to build relationships with them by offering language services not only on websites and marketing materials, but also in customer service interactions.
Through ongoing customer support, LanguageLine helps our clients retain, upsell, grow, and nurture multilingual clients.