Medical Translation: Is Translation of Vital Documents Enough?
Posted by Cory Markert on May 11, 2016
Healthcare providers know that understanding written medical information is difficult for most patients. And they also know the difficulties Limited English Proficient (LEP) patients encounter in trying to comprehend the context when they can't read the language of the document. It is intimidating and frightening. When the documents are in the language of the patient, compliance with treatment, satisfaction with the experience, and trust dramatically increases.
What vital medical documents should be translated?
We published a blog a while back detailing "The 6 Medical Documents You Must Translate to be Compliant". Most healthcare providers already understand why these documents are required by regulations. And, that it is to provide the competent care every patient has a right to receive.
As a quick refresher, the six vital documents which must be translated by law into the community's most commonly spoken languages are:
Notices of free language assistance
Notice of eligibility criteria for services
Informed consent documents
Intake forms that have clinical consequences
Discharge instructions
Complaint forms
Are there additional documents providers should consider translating?
Offering additional translated documents for LEP patients would be very helpful to them, and beneficial to the provider. The Patient Protection and Affordable Care Act (PPACA), also known as ACA involves shifting incentives from quantity to quality of care. To emphasize that shift, the ACA includes financial repercussions that support quality over care. The financial repercussions, per the ACA, are twofold. One, Medicare reimbursements are tied to readmission rates, with higher penalties if patients return for the same issue within 30 days. Secondly, providers receive bonuses or penalties based on patient satisfaction levels according to written surveys. The translation of healthcare documentation has a direct impact on both.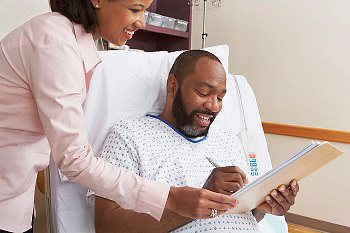 A patient survey results report has shown that LEP patients report much lower satisfaction rates (36% lower) compared to English speaking patients, and are 47% more likely not to return for future care. Improving quality of care for all your patients may include translating other patient-facing materials such as:
Patient education materials: This includes follow-up materials and additional resources for ongoing treatment or personal care.
Patient surveys. Many healthcare providers now administer a patient survey called the HCAHPS (Hospital Consumer Assessment of Healthcare Providers and Systems) which asks a series of questions regarding the quality of care patients received and communication between the patient and the provider. The results directly impact provider reimbursements or penalties through CMS (Centers for Medicare and Medicaid Services).
Health Care marketing materials: Marketing materials, websites, and other external information shared within the community.
Patient forms: Completing necessary informational forms in-language assists in gathering the correct data with more comprehensive submissions
These types of documents are not mandated as vital documents; however, many providers consider these to be just as important—especially when it comes to patient education and satisfaction. Translating these documents will not only help to maximize reimbursements and reduce penalties, but will also increase you staff's productivity as the LEPs become more engaged and comfortable in discussing their healthcare issues.
How do providers get started with medical translation?
More and more regulations will most likely be enacted to ensure every patient has equal access to services. But regulations shouldn't be the only motivation to offer services and supporting documents in languages patients understand. Assess your patients and their needs; understand what languages they speak and read. Begin including translation in your language access program and plans. Then build a comprehensive translation strategy extending beyond the basic vital documents. Find a professional language access partner who can assess your needs and deliver quality, accurate, and dependable services.
Download the LanguageLine Translation brochure to learn how we assist organizations deliver translation materials on time and on budget.