'Lifeguard in the Yellow Shirt' Should Be a Red Flag for Local Governments When It Comes to Sign-Language Interpreting
Posted by The LanguageLine Solutions Team on September 21, 2017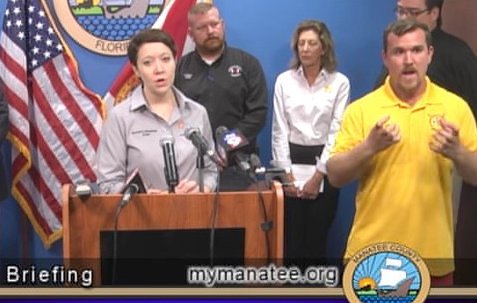 If you've been on social media lately, you're likely familiar with the "Lifeguard in the Yellow Shirt," who by now is as omnipresent on Twitter as "The Man in the Yellow Hat" is in children's books.
The differences between the two could not be starker. Whereas the latter is a rational-minded fictional character that chased after Curious George and cleaned up after his mayhem, the former is no laughing matter, as he could have inadvertently caused real-life mayhem of his own despite his best efforts to be helpful.
The Lifeguard in the Yellow Shirt has endured a great deal of ridicule, but the responsibility for using a qualified interpreter truly lies with the public entity whose constituency relies upon it to build language access into its overall communication strategy.
Here is what happened:
As Hurricane Irma was racing toward Florida, officials in Manatee County, which is immediately south of St. Petersburg, hastily pulled together a news conference to explain mandatory evacuation orders.
"We just need you to be safe," Robin DiSabatino of the Board of County Commissioners said at the briefing. She went on to lay out the basics for critical evacuation guidelines.
Unfortunately, deaf and hard-of-hearing viewers received very different instructions through the interpreter.
"Pizza want you are need be bear monster," he signed. "Toys for who Mexican."
It quickly became apparent that the interpreter, who appeared unsure of himself, was not a qualified professional. Sure enough, it turned out that he was actually a county lifeguard who has a deaf sibling and was pulled into the conference at the last minute.
"Who is this person you are using as a sign language interpreter?" a woman wrote on the county's Facebook page, where the video has since been removed. "You are putting lives in danger. This person is not qualified."
Another wrote, "What a disservice to the Deaf community at such a critical time."
If his signing didn't give away his lack of professional qualifications, his bright yellow shirt certainly did. (Light-skinned sign-language interpreters usually wear dark clothing to help their hands stand out.)
Video of the news conference has received more than one million views on YouTube.
"It was atrocious," said Howard A. Rosenblum, the chief executive of the National Association of the Deaf, speaking with the New York Times. "We believe that Manatee County failed to provide information to the Deaf and Hard-of-Hearing community to the same extent that it provided to all others."
Julie Beacham-Hooie, a deaf resident of Manatee County, told the Times that the failure to provide a qualified interpreter added considerable anxiety to the situation.
"It was a really stressful day for sure. I was watching the interpreter and seeing him spelling and spelling and spelling, and not fully signing. It was very hard to follow. I asked other people if the hurricane was actually headed straight for us. I had no idea (based on the news conference)."
A spokesperson for the county told media that the lifeguard was asked to sign because they did not have time to find a qualified interpreter in advance of the news conference.
How to Avoid a Similar Situation

The goal here is not to embarrass "The Lifeguard in the Yellow Shirt," as he's come to be known. He was surely making his best attempt.
One YouTube commenter defended the man, writing:
"He was not impersonating an interpreter. I personally know him and he is not an interpreter, nor does he claim to be. The county (is) the one who are to blame, not this man. For the record his superiors asked him to, and he told them that he was not an interpreter and did not want to, but he was coerced into doing it. Yes, it was a serious mistake, but please direct your outrage appropriately and don't just make assumptions."
The commenter is correct. The larger point is that at a time of crisis, deaf and hard-of-hearing lives were put at risk due to the county's lack of preparedness. The poor signing highlighted the danger the Deaf and Hard-of-Hearing community faces in emergency situations when interpreters are used who do not have the right qualifications or accreditation.
Are You Prepared?
Government agencies should take this opportunity to reflect on their preparedness to communicate with the Deaf and Hard-of-Hearing in a similar scenario, as giving incorrect information during a disaster could have had deadly consequences. This is a risk-management issue that covers compliance, as well as the safety and property of those who did not get equal access to disaster information.
Furthermore, not having a qualified interpreter – and therefore not providing the Deaf and Hard-of-Hearing with necessary information during an emergency – is a violation of the Americans with Disabilities Act. Communities that do not fulfill this requirement are out of compliance and put themselves at legal risk.
The lesson here is that all governments need to be prepared in advance to have a qualified interpreter. They must have professional American Sign Language interpreters lined up and available rather than scrambling at the last minute and using the relative of someone who is deaf. Communication with the Deaf and Hard-of-Hearing communities – which combined are 48 million strong – should not be an afterthought.
This is International Week of the Deaf. The theme for the week is "Full Inclusion with Sign Language." There is no better time for local, state, and federal agencies to examine their preparedness to communicate with this population that is disproportionately vulnerable during emergency situations. (September also happens to be National Preparedness Month.)
LanguageLine can help. We are able to provide qualified onsite and video American Sign Language interpretation in the event that your community faces an emergency and must communicate with the Deaf and Hard-of-Hearing.