16 Stats That Show The Language Access Needs of Medicare Beneficiaries
Posted by Mike McMahon on September 5, 2017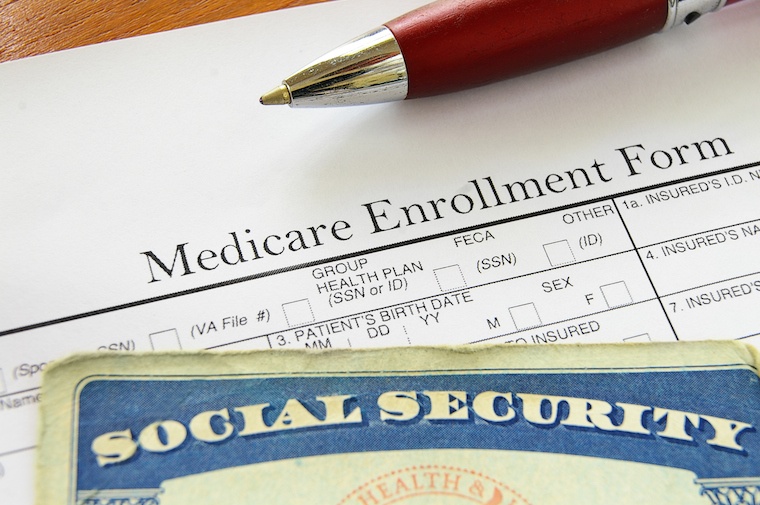 Communication is an important part of health literacy, so it's not surprising that Medicare beneficiaries with challenges in this area are at a greater risk for poor health outcomes.
Removing those barriers tends to improve health outcomes and may even contribute to higher CMS star ratings, which impact an organization's reputation and reimbursement.
A recent report by the Centers for Medicare & Medicaid Services Office of Minority Health presents useful data that can help prescription drug and health plans better understand Medicare beneficiaries and their language needs.
Here are 16 telling statistics and what they mean for providers.
Demographics of Medicare Beneficiaries
There are more than 52 million Medicare beneficiaries in the United States, according to 2014 American Community Survey data cited in the report. Among them:
8% are Hispanic or Latino
3.5% are Asian
Less than 1% are Native Hawaiian, Pacific Islander, American Indian or Alaska natives
Language Proficiency Varies by Ethnicity
Four million of all Medicare beneficiaries, or 8 percent, have limited English proficiency, meaning they report speaking English "less than very well." Their English proficiency varies by ethnicity. Those who report limited English proficiency include:
57% of Asian beneficiaries
49% of Hispanic or Latino beneficiaries
27% of Native Hawaiian and other Pacific Islander beneficiaries
11% of American Indian/Alaska Native beneficiaries
Language Proficiency Varies By State
The percentage of Medicare beneficiaries with limited English proficiency (LEP) ranges widely across states, from less than 1 percent in West Virginia to over 22 percent in California. Limited English proficiency refers to people with a limited ability to read, speak, write or understand English. The chart below shows the states with the highest LEP populations.
The majority of all beneficiaries in the U.S. with limited English proficiency reside in just a few of the states with the most Medicare beneficiaries.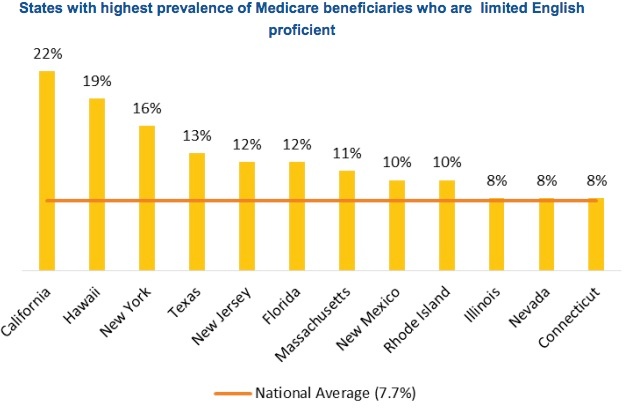 Language Preferences Vary By State
Spanish is by far the most common language used among Medicare beneficiaries across the country, with over half of LEP beneficiaries reporting it as their primary language, as the chart below shows.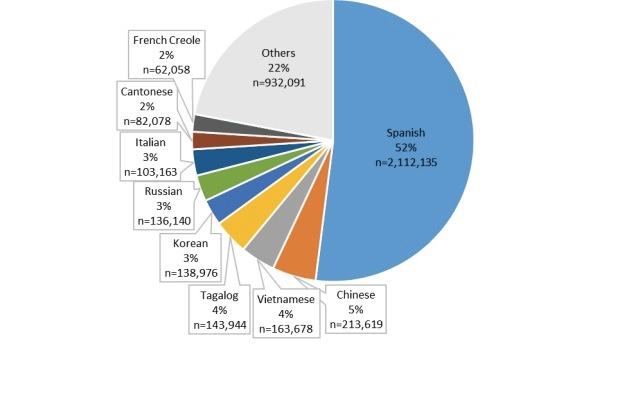 After Spanish, language preferences vary by largely by state and reflect variations in immigrant and Native American populations. For instance:
In California, the most common languages after Spanish are Tagalog, Chinese and Vietnamese
In New York, the most common languages are Chinese, Russian and Italian
In New Mexico, the most common languages are Navajo, Zuni and Keres
These variations illustrate the need to have on-demand access to a variety of languages at any given time. Having Spanish interpreters available is no longer enough. Section 1557 of the Affordable Care Act now requires covered entities to make language access available and notify people in the top 15 languages in their state that they can receive assistance at no cost.
Hearing Difficulties Are More Common Than Language Barriers
Among Medicare beneficiaries, hearing difficulties are the most common communication challenge, with nearly 15 percent of Medicare beneficiaries considered deaf or hard of hearing.
The prevalence of hearing problems varies by state as this chart shows, ranging from 9 percent in the District of Columbia to 21 percent in Alaska.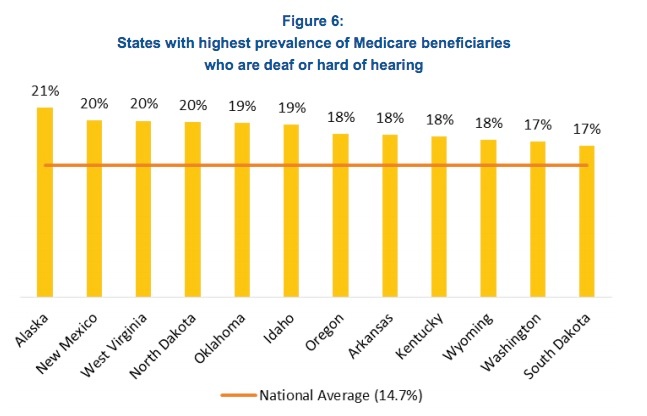 Providers should be prepared to use onsite or video remote interpreting to assist these beneficiaries.
Providing Meaningful Language Access For Medicare Beneficiaries
All organizations that serve Medicare beneficiaries, from insurance groups to prescription drug plans, should be committed to providing the highest quality care at all times. That commitment starts with understanding the communication and language access needs of the populations they serve and ensuring language access solutions are available.
Each beneficiary is an individual with specific needs, so providers need to have a wide range of solutions at hand to address them. That includes fast and accurate document translation to relay benefits and vital information, on-demand phone interpreting, video remote interpreting and onsite interpreting when necessary.
With access to nearly 9,000 professional interpreters in 240 languages, as well as translation and localization services, LanguageLine Solutions is uniquely equipped to serve Medicare providers and other healthcare organizations. Our interpreters handle 90 percent of demand in the top 20 languages and 85 percent of demand in all languages. To learn more about how language access and other factors can impact your CMS star ratings, download our free whitepaper.