Interview with a Video Interpreter
Posted by Julie Carson on October 9, 2015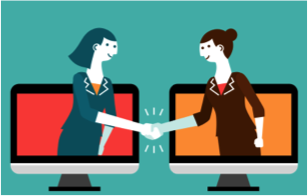 We work to continually focus on educating companies and organizations about the essential need for language access solutions. But, now we want to shine the spotlight inside, to highlight some of the incredible talent that makes LanguageLine Solutions the leader in the language access industry.
We recently spoke with Cynthia, one of our professional video interpreters who has been trained to assist with medical interpreting using video as part of her daily interactions. Since they need to be able to understand, interpret, and express highly complex information with a balance of clinical accuracy and bedside manner, it's safe to say our medical video interpreters are among the best of the best and most skilled in our interpreter talent pool.
LLS: How long have you been an interpreter and how did you get started in the field?
CC: I've been an interpreter for 13 years. I went to school to become a translator, so when I saw there was an opening for LanguageLine Solutions, I immediately went for it. It was a great decision because I love interpreting and translating.
LLS: How long have you been a video interpreter?
CC: I've been interpreting via video as part of the video program for just over one year – since June 2014.
LLS: Why did you choose to become a video interpreter?
CC: Since I was an over-the-phone interpreter for 10 years it was good to have a new challenge, plus it gives me the chance to handle more medical calls which is what I enjoy the most. It's interesting and fun to learn medical terms and procedures and to finally put a face to the voices I've been hearing for years. I want to be a pioneer in everything LanguageLine offers, so when the opportunity presented itself, I took it.
Over the course of my interpreting duties, I get to learn a lot of new and interesting medical terms and when I get home I often look up videos of medical procedures so that I can better understand where the patient is coming from.
LLS: What makes interpreting via video different from over the telephone from your perspective?
CC: The biggest difference I've noted is that non-verbal communication comes into play – facial expressions, gestures, and body language – and that's when you realize that the patients are worried, happy, in pain, or any other emotion. Being able to put a face with the voice that I hear allows me to better understand why a particular patient is not understanding or is having difficulty following a nurse's instructions.
LLS: Why is VRI so powerful, especially in a healthcare setting?
CC: When an LEP is in distress because there is something going on and I get to see their face and see the question mark on their face, it puts me in a great position to help. Seeing my face through the video often reassures the patient that everything is going to be ok. and from the patient's facial expressions I can tell that he or she feels understood. The communication is as clear as possible. You get to see when they are understanding me. And if they're not, I slow down, annunciate better, until they're with me. I use non-verbal communication to help the patient understand and feel understood.
It also makes it more interesting than just hearing a voice over the phone. The patient often actually shows me their injury or area of concern – like a bump on their elbow, or a pain in their belly – and it makes the patient feel better that I know what she is saying, even though what I'm doing is acting as an interpreter.
Many patients, particularly the elderly, seem happy with the VRI program and feel it's a sign of respect that they can see me and I can see them.
If you haven't yet experienced video remote interpreting, contact us today to see if it's the best option for your business or healthcare facility.