Comprehensive Language Data from the U.S. Census Bureau
Posted by Greg Holt on November 5, 2015
This week, the U.S. Census Bureau released a new set of language data that highlights at least 350 languages spoken in the United States. For anyone seeking detailed data of languages spoken in their area, this release offers unprecedented proof of the linguistic diversity across the U.S. A look at the 15 Largest Metro Areas is striking view of the tip of the iceberg.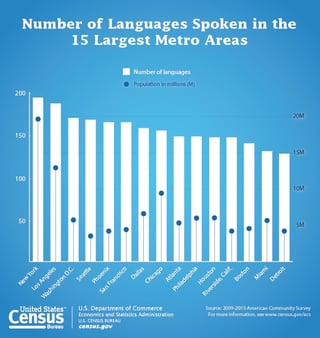 What does the latest data release cover?
The data sets provide "Language Spoken at Home" data on four geographic levels:
National

- one overall national count of languages and language groups as defined by the U.S. Census;

State

- language details for all 50 states, the District of Columbia and Puerto Rico;
County - language data for 155 counties, those with more than 100,000 total population and more than 25,000 speakers of languages other than English and Spanish;

Core-Based Statistical Area (CBSAs)

- language data from 100 metro areas with populations more than 100,000 and more than 25,000 speakers of languages other than English and Spanish, ranging from Akron, Ohio to Worcester, Massachusetts.
In addition to counting the number of people who speak each language, the data sets include a count of the people who "Speak English less than 'Very Well'" within each group. That is the most common definition of Limited English Proficiency (LEP) and frequently guides business and government planning decisions. LEP data will highlight the limitations of English-only communication and whether your message will be understood, or whether interpretation or translation may be required.
How is the data useful?
This data offers a wealth of information for planners and managers in the private sector, health care and government to help manage day-to-day operations as well as plan for emergencies. For practical purposes, the new data could:
Assist service organizations in business planning and staffing for greater efficiency in communication, promoting business, disaster preparedness and broader community involvement. Is everybody accounted for in your area?
Develop or update an organization's Language Access Plan, to prepare more cost-effective ways to serve a linguistically diverse population. Do you have all the bases covered wherever your organization interacts with the public?
Use baseline language data to measure compliance with language access policies. How do the new stats match up to the level of language support you currently provide? Are there significant gaps?
Identify any new or emerging populations that may have reached a size where translated written materials make sense for efficient communication or compliance purposes. Has there been a demographic shift that makes translating information or vital documents a better way to reach these communities or meet compliance mandates?
There is a lot to digest in the latest data release and much more to think about for individuals and organizations alike. This information is not all- inclusive and does not cover every region of the country. What it does clearly demonstrate though is the reality of language diversity in the U.S. right now—which is a great asset when planning for communication tomorrow.
To learn more about this data release, download the individual files:
Contact us for more information on how LanguageLine Solutions can help you with the highest caliber language access program.